From Kenyon to Guatemala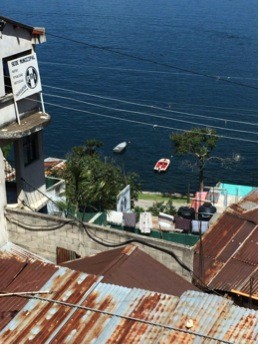 During this past summer, I had the opportunity to travel to Tecpán, Guatemala, through Hamilton Scholars, a scholarship and college assistance program I was selected for in high school. Over the course of a week, a group of approximately 30 other college students and I spent our mornings volunteering at a local elementary school, alternating between teaching English to the students and painting desks, chairs and the outside walls of the school. While there, I found myself reflecting on my experiences at Kenyon.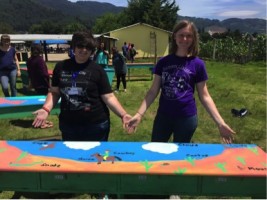 Initially, I was struck by the similarities between the rural town of Tecpán and Kenyon. Though Gambier is by no means as mountainous as Tecpán, it is nearly impossible to distinguish between the cornfields that line the roads of Knox County and those that surround the Guatemalan school.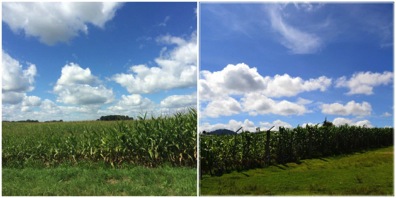 Left: Ohio. Right: Guatemala. Hard to tell apart, right?
However, my trip to Guatemala made me think about not just the rural Kenyon environment but also about the valuable lessons I learned from my first year of college. As I spoke with first-grade students and watched a pottery demonstration from a local craftswoman, I was reminded of a sociology course I took during my first semester at Kenyon called "Society in Comparative Perspective." In this class, Professor Jennifer Johnson taught us the basics of sociological theory while also giving us a global perspective of society. To explore this perspective, she assigned us A Small Place by Jamaica Kincaid, a book about the effects of colonialism and the impact of tourism on Antigua. Kincaid tells readers that while they may fall in love with the beauty of places like Antigua, they are only exposed to a small part of the island. The poverty and corruption within the nation remains hidden from view because they are only tourists; they do not see what life truly is like for those who live in Antigua.
Her text reminded me to pay attention to my surroundings during my time in Guatemala. While the nation's beautiful landscapes captivated me, I also noticed the lack of older girls at the elementary school and the large number of children working instead of attending school as we drove into town each morning. Though we visited Guatemala to learn about the country's culture and participate in service work, my experiences with sociology made me aware that I still felt like a tourist. My status as a volunteer did not take away the fact that I was an outsider from a more privileged, wealthier nation. I believe this awareness made my brief trip to Guatemala more meaningful for me. Instead of simply admiring the beauty of the land, I actively sought to involve myself in the local culture and help the children in more significant ways. I purchased goods from vendors when we explored the area further, I tried to make English lessons memorable for my class so they would recall the words later in life, and I attempted to speak with local residents whenever possible. In acknowledging the poverty in Tecpán, I tried to take to heart what I learned at Kenyon and make an effort to look beyond just the pleasant pieces and see Guatemala in its entirety.