Getting Mushy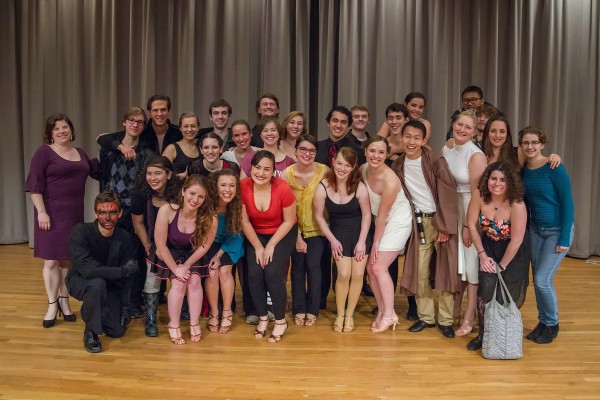 Being a senior means that I'm starting to think about all of the mushy things you think about when you're getting ready to leave a place. I'm already reminiscing about fun memories I've made, groups I've been a part of, and meaningful experiences I've had. The Ballroom Dance Club has been an important part of my Kenyon experience, and Dancing with the Kenyon Stars has been one of my favorite events we've put on.
Last month, we held the fourth annual Dancing with the Kenyon Stars, or DWTKS (pronounced Dwit-kiss) as we affectionately refer to it. DWTKS is similar to the TV show Dancing with the Stars (see what we did there?). We match faculty or staff with ballroom club members, and we teach them a dance to perform at a lighthearted competitive event. We charge for the ballots to vote for your favorite dancers, and all of the proceeds go to charity. We typically raise around $1,000 each year for the local homeless shelter.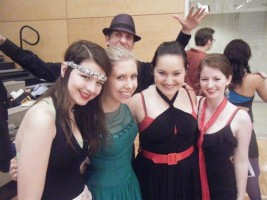 Throwback to the very first DWTKS when I was a wee freshman
Since it was the fourth annual DWTKS and it is my fourth year at Kenyon, I've been able to see the event grow from its frantic, slightly unorganized infancy to a hugely popular event, running like a well-oiled machine. I've gone from a supporter to a participant to an organizer, and it amazes me each year that a student group of 20-some members is able to pull this off. We had hundreds of students, faculty, staff and community members attend the event, and we are hoping to build it up even more in years to come.
This year, I danced with Jarrett Tate, who works in admissions. We danced to "Old Time Rock and Roll," and of course we had a "Risky Business" thing going on … we wore boxers onstage. We both had a great time, and we even earned some laughs from the audience. An overall success!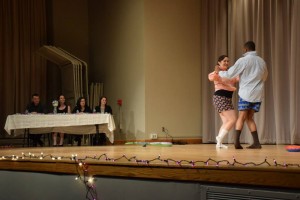 Jarrett Tate and me dancing the swing at DWTKS 2014
So yes, DWTKS is one of those mushy things that I'll look back on fondly. And the Ballroom Dance Club is probably one of those things that … wait for it … changed my life. But hey, if you put as much blood, sweat and tears into this as we have, I think we can afford to be a little mushy in the end.
A video I helped to make for my job in Public Affairs about DWTKS and unique professor relationships