Greetings from Morocco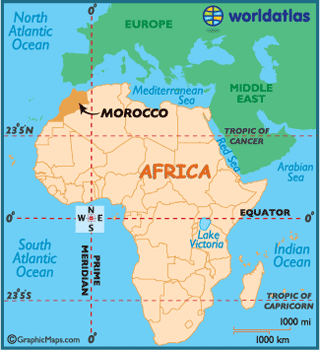 Salaam, everyone! I'm Madeleine, a junior majoring in political science and modern languages (French and Arabic). Haven't you seen me around campus? Well that's probably because I'm in Rabat, Morocco. Before I left, my uncle asked me if Morocco was in Egypt, so to save you some potential embarrassment here is a map.
"So what the hell are you doing there?" you might ask. Fair question! At times even I feel unsure of the answer, but I can say with certainty that I'm exploring and that I'm having an amazing time doing it.
The program I'm on is with SIT (a popular study abroad option for Kenyon students), and it's called Field Studies in Journalism and New Media. In addition to getting to live in a completely different world I also get to report about it, which is essentially what I want to do with my life. (I've got the beeeeest of both worldssss….! No? Ok.)
Being here is both awesome and difficult, as it is, I assume, with most study abroad programs. Between language barriers, host families, new friends and weird food, being in an entirely new place exhausts you in every possible way. For the benefit of those considering studying abroad or looking to reminisce about their experience, I've made a list of some of the struggles I've faced so far and the ways in which I've overcome them. Or not.
The problem: Turkish toilets/bucket showers. Y'all this was (is) a tough one. I had no idea how attached I was to the feeling of cool porcelain under my thighs and the ability to chill out on the loo until I had to squat over a hole and use my hands to wipe. My host house also does not have a shower but rather a large-ish bucket for hot water and a smaller one for scooping.
The solution: Deal with it. There is absolutely no way around this issue. Sometimes when I have a bigger, um, situation to take care of I wait until I can get to the center where I have classes. (It has a Western toilet AND toilet paper!) As for bucket showers I've learned to enjoy them, and I get to feel pretty good about being environmental at the same time.
The problem: The Internet here sucks. There are numerous WiFi (pronounced WEE-fee) cafes but it's still not enough to Skype. Plus, if you go there with a bunch of friends the connection will freak out and die.
The solution: Inwi Internet stick. Internet wherever you go! Well, bad Internet wherever you go. For example it took 19 hours to download iOS7... Lol. Most of the time I just wait until I'm back at the center and the connection is better than in the entire rest of the country. Pretty much.
The problem: Street harassment. It's real and, while rarely menacing or mean-spirited, it's truly obnoxious. If you are a girl walking absolutely anywhere you will hear "hello yes you are so beautiful" several times a day. Last week some dude yelled, "I am your prince charming!" as I walked down the main market street. I thought that one was pretty funny.
The solution: Sunglasses, earbuds and big groups. Street harassment scared me when I got here, having never experienced anything like it before, but it's not such a big deal now. We could have a big discussion about why men do it, but mostly it's lack of education and a desire to show off for their friends. I've never been called out to by a guy who was by himself, and if I don't respond or make eye contact they always stop. That's not to say that I'm not hyper-aware of my own safety, because in any new and unknown place you have to look out for yourself.
The problem: There are no Lays Salt & Vinegar Chips in this country.
The solution: If you're reading this, could you ship me some?
To wrap it up, my first month in Morocco has been a whirlwind. I've ridden a camel in the Sahara, reported on a girls' school in a rural village, gotten seriously lost in the winding alleyways of the medina and eaten more bread than you can possibly imagine. It's hard sometimes, but I love it.
PS I made this abroad blog to appease my parents, but here it is in case you're interested: www.nomadeleine.wordpress.com. Get it? NoMadeleine? Nomad + Madeleine? Whatever, I'm cool. Peace out.