Hammering Away at Home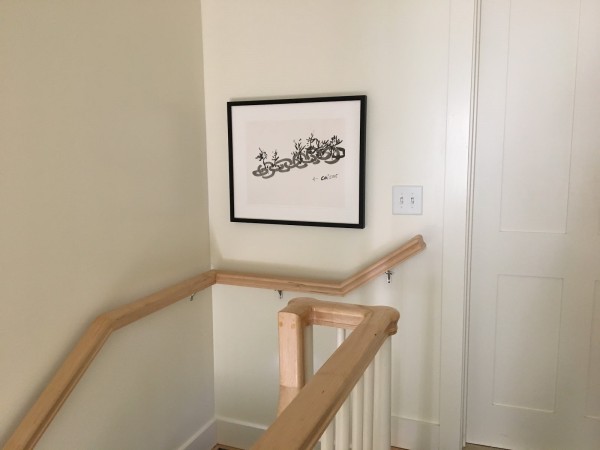 It's not every day that you end up standing on a bed while drilling into a brick wall in Mather Residence Hall, and it's definitely not something I ever thought I'd find myself doing regularly. Yet twice a year for nearly four years, I've found myself spending a week installing art for the Gund Gallery's art loan program. By installing these works, I've gotten valuable experience for working in art galleries and museums, but it's also given me an indelible glimpse of every dorm on Kenyon's campus.
From photographs to prints to paintings, the art loan program has expanded since its inception in 2016 to include almost 65 pieces that are installed in different dorms every semester. The gallery uses a lottery system to vary who gets art each semester. I was lucky enough to have a photograph in my Bushnell double during my sophomore spring, and this fall, my housemate won a print that's currently gracing our stairwell.
Some of my friends have gotten attached to their pieces — often too attached. A close friend of mine who recently graduated has told me how much he misses the painting that he had for a record four semesters over the course of his time at Kenyon. Now, as a graduate, he wishes he still had it on his walls. It's reassuring to be reminded that a single, relatively unknown piece of artwork can stick with you, like a Van Gogh or Rothko do for some.
This isn't the only unusual thing I've found myself doing during my time as a Gund Gallery Associate, either. From mundane (but enjoyable) tasks to slightly more odd jobs, there have been times you could find me huddled away in the kitchen, plating desserts and making tea for the weekly Associates meeting. Other times, I have been balanced on a ladder 10 feet up, uninstalling ceiling panels for various exhibitions (my favorite? "The Visitors" by Ragnar Kjartansson).
In the end, being a part of the art loan program is always an interesting glimpse into different Kenyon lives. Whether someone's dorm room is impeccably clean or strewn about with clothes, the art that lives there for a semester becomes a part of that person's college experience — something that I find really special and unique to Kenyon. It's always interesting for us associates, too: nothing is worse than installing art on the fourth floor of Old Kenyon on the hottest day in August, but nothing beats the smiles we get once a piece of art is up on the wall.