How I Became an Artist at Kenyon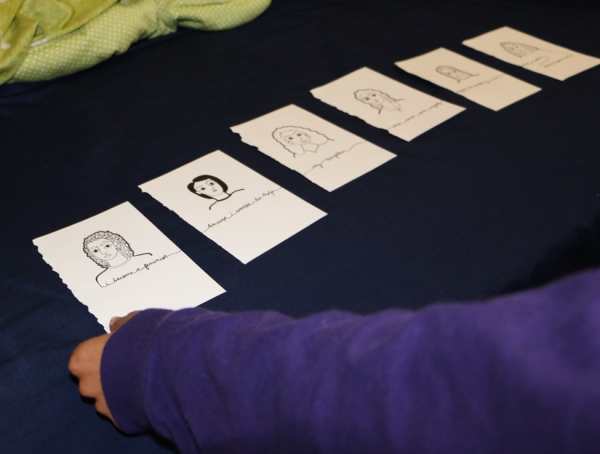 At some point during my childhood, my parents decided it was a good idea to buy me large sheets of paper to draw on. To a five-year-old, a poster-sized piece of paper seemed like a vast universe. I gripped my Crayola washable markers between my small fingers and slowly crafted whatever pleased me: a too-square house, a sun with its rays outstretched like arms, a field of flowers. This was the birth of myself as an artist.
It feels strange to call myself an artist. I'm not an art major. I've never exhibited any of my other work publicly. Mostly I draw in a small sketchbook and on the occasional birthday card. But I decided it was the time to push myself outside of my comfort zone when I saw the posters advertising an upcoming exhibit by the Gund Gallery Associates called "Off the Hill: Student-Curated Student-Artists."
But I still had to create something to submit.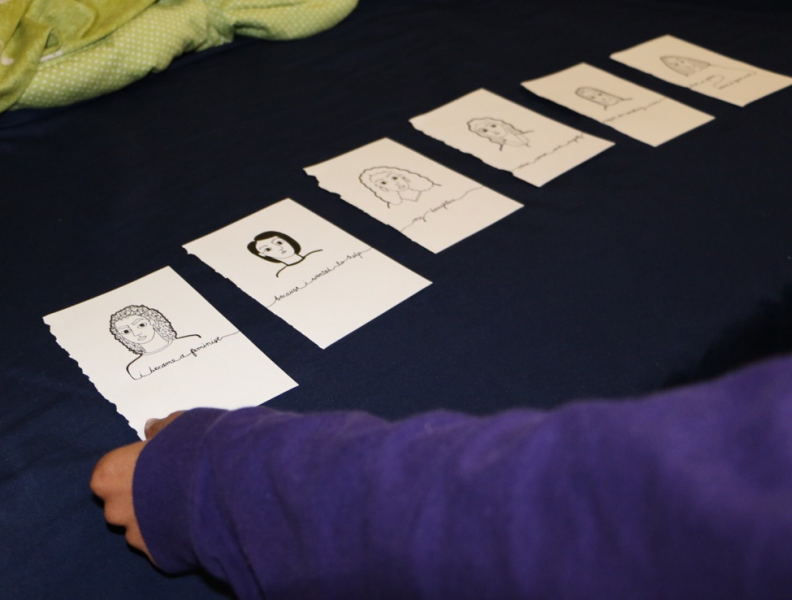 Laying out the drawings on my bed for a quick photo shoot to be used in my original submission to the show.
I started with a quote from one of my favorite artists, Faith Ringgold: "I became a feminist because I wanted to help my daughters, other women and myself aspire to something more than a place behind a good man." On nights when I didn't have too much homework, I drew a portrait of a woman and then captioned it with a portion of the quote. The women ended up a diverse array: curly hair and freckled skin; straight, flaxen hair and long noses; hoop earrings; an elaborately collared shirt.
In all, I ended with six separate 4x6 portraits that, when laid in row, displayed the quote in swirling cursive.
Without telling a soul, I submitted the work. It was accepted, and I went to a secret back room in the Gund Gallery to cut mat board for my pieces. Mat board, essentially, is thick paper used to outline and cushion the work inside its wood-and-glass frame. After battling with an angled cutting tool and giant cutting board bolted to a wall, I had prepped my work. I had only to wait until opening night to see everything together.
On Monday night, the show opened to the public. A full moon welcomed my friends and me through a curtain of foggy clouds. Inside ThePlace@TheWoodward, formerly a coffee shop I frequented during my previous years at Kenyon, it was warm, and under dim light I saw my six drawings hung along the yellow wall. I stood in front and sheepishly had my photo taken by my friends, functioning as my replacement parents tonight.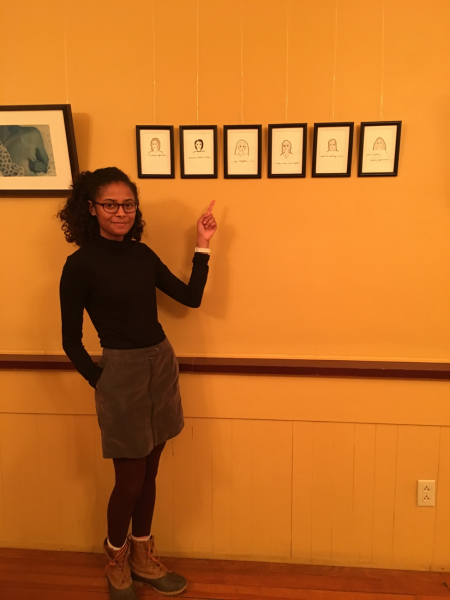 Look, it's real!
Now I've returned to campus. Back in my room, writing this all down, I pause to reflect on the journey that brought me to this Gund Gallery Associates show. It has been a smooth but surprising journey. I legitimately surprised myself tonight. My talent, my tenacity, my artistic ability. We all deserve a moment to bask in our own gifts.
I think this is also a moment to bask in the beauty of this opportunity. I'm not saying that Kenyon is the only place where something like this could happen. I am saying that it is most serendipitous that it all worked out the way it did. Five-year-old Meera, sitting with her poster paper, marker firmly in hand, would only offer a sly smile to know that one day she'd be here.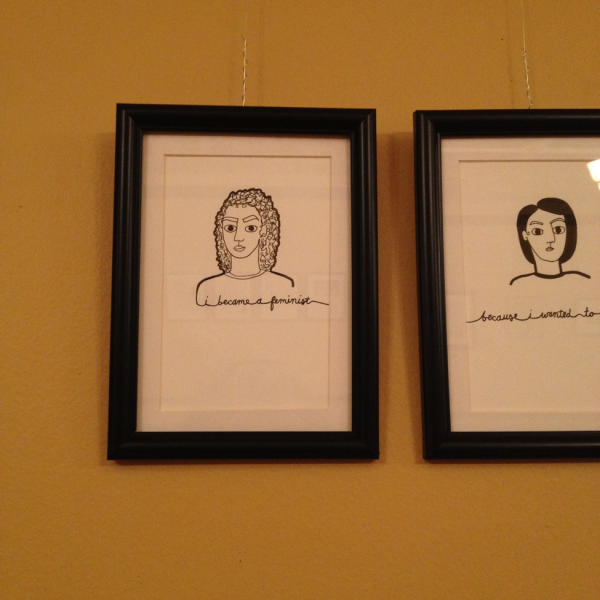 Close-up of the first portrait in the series.
The exhibition is open the week of Nov. 14-18: Tuesday-Friday 3-6 p.m., and Saturday 10 a.m.-3 p.m. It is also open on Sunday, Nov. 27 from 10 a.m.-5 p.m. during the Mount Vernon Christmas Walk. More info here.