Ice Creams, Ranked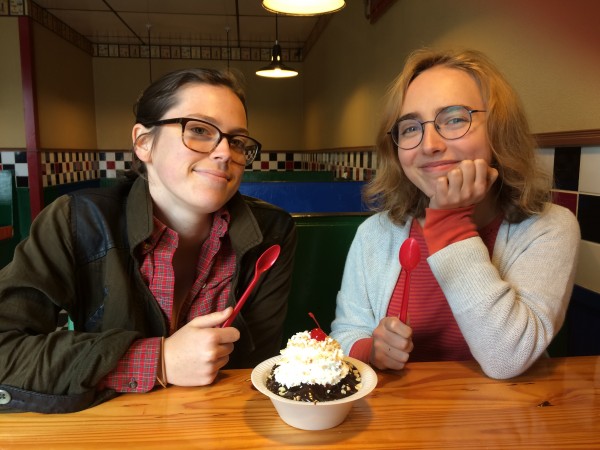 If you're anything like me, you consider ice cream to be an essential part of a balanced diet. The weather's been fairly chilly in Gambier recently, but that's no reason not to seek out Ohio's top frozen desserts: I'm a firm believer that ice cream is not a seasonal food, so why wait until the middle of summer to grab a cone? Recently, my housemate Linnea and I explored the Gambier/Mount Vernon area looking for the best ice cream we could find. Although Ohio is home to several notable ice cream brands, including Cincinnati-based Graeter's and Columbus-based Jeni's Splendid Ice Creams (Joe Biden's favorite), we tried to stick close to home and avoid big names.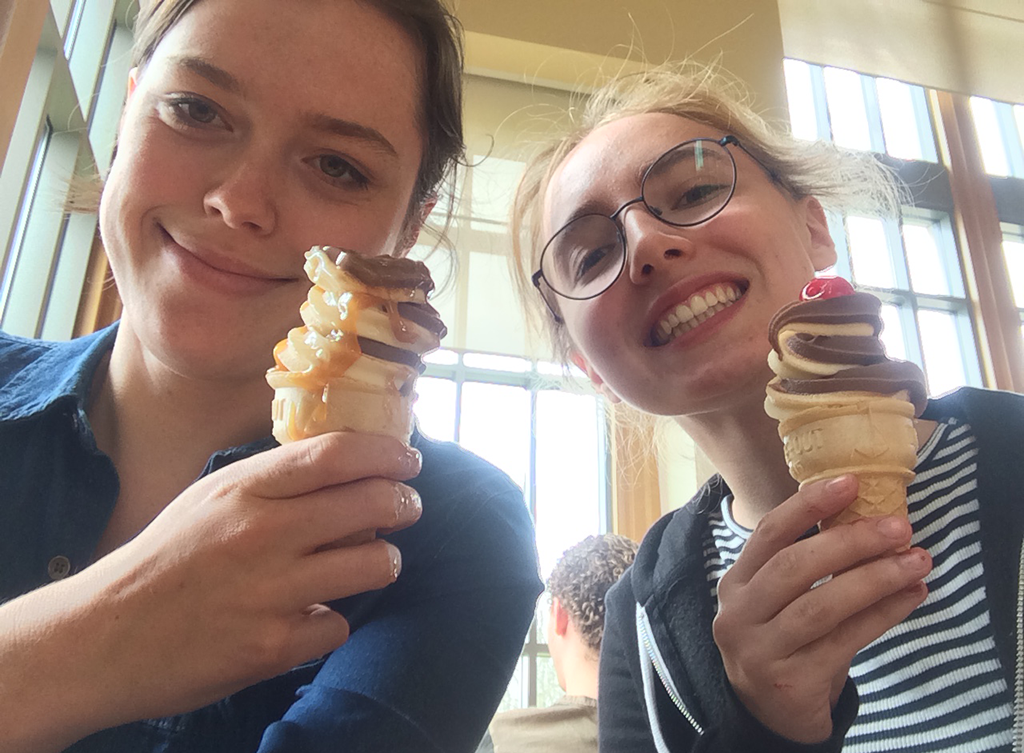 1. Peirce Hall
In a rush? The servery at Peirce always has a soft serve machine at your disposal, with some sugar cones and sauces on the side, for you to use at your discretion.
Carolyn: A simple twist in a cone is always a classic. You can't go wrong there. My one criticism is that there isn't much variety. 3.5/5
Linnea: It's good ice cream, but I agree. You start wanting a change after a while. 3/5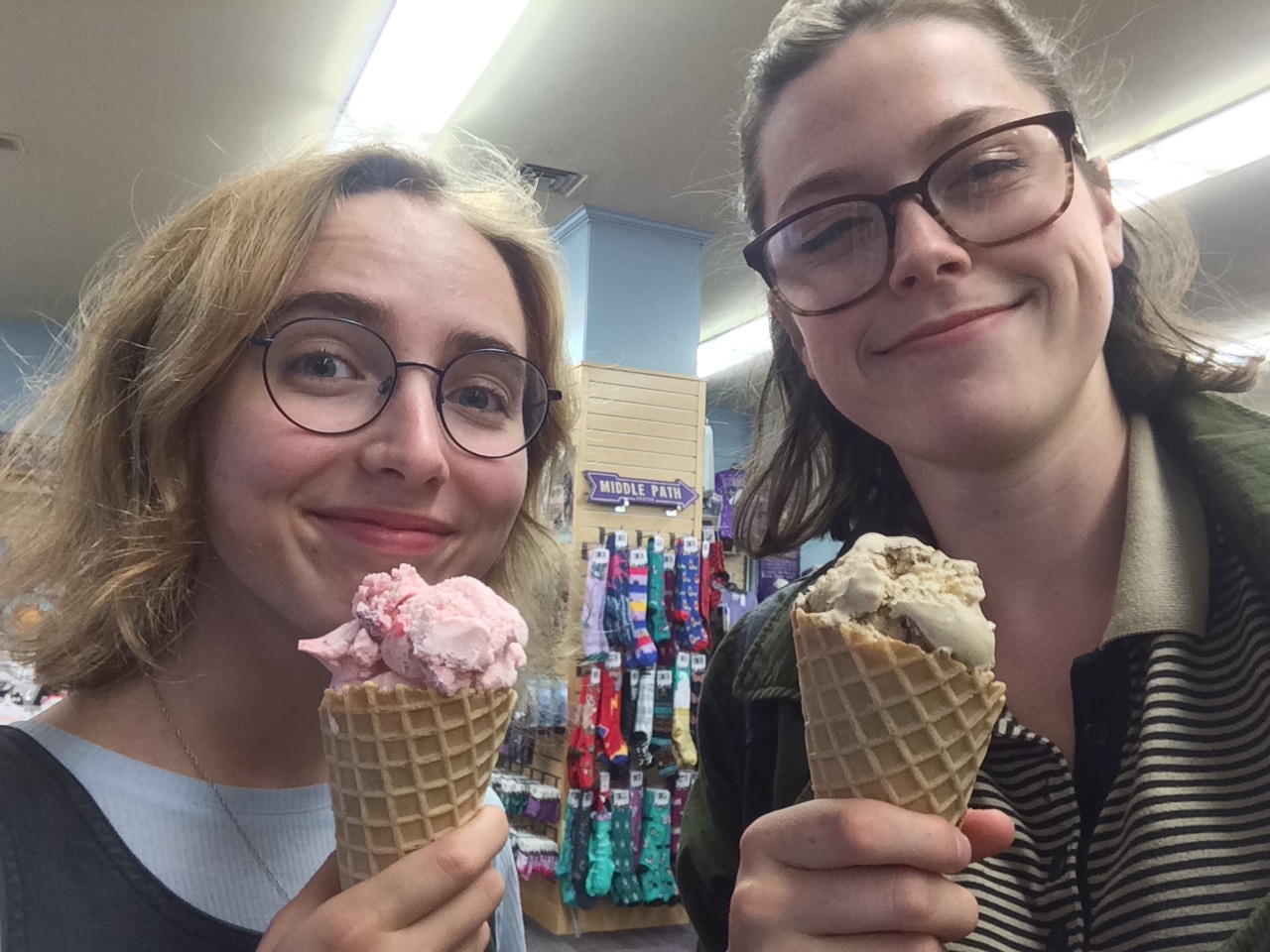 2. The Bookstore
America's longest continuously-operating college bookstore is renowned for many things, including its variety of flavors from Velvet Ice Cream in nearby Utica.
Carolyn: Buckeye Classic will never disappoint. A perfect blend of peanut butter and chocolate, with a good consistency. 4/5
Linnea: Strawberry ice cream is always great, especially in a waffle cone! 4/5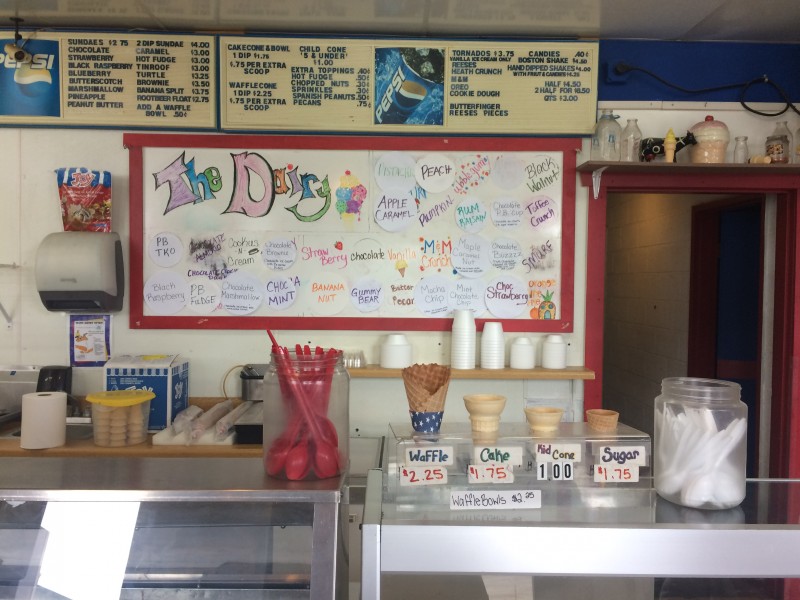 3. The Dairy
Tucked next to an alpaca farm in Mount Vernon, The Dairy is a relative secret among Kenyon students. With low prices and huge serving sizes, this place is a must for ice cream lovers.
Carolyn: Sharing a hot fudge sundae (pictured at top) was a good call. I don't think I could have handled this by myself. The ice cream is good, but the fudge sauce is excellent. The chopped nuts on top are also a nice touch. 4/5
Linnea: This is our first sundae, so the presentation is much fancier than the past two cones, combined with a really cheap price ($3)! I'm impressed. 4.5/5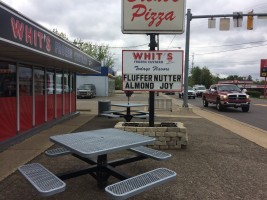 4. Whit's Frozen Custard – the Winner!
Whit's, a chain originating in Granville, Ohio, has pretty much anything you could ask for in frozen custard: birthday cakes, pints to take home for later, tons of different toppings and syrups — you name it. They serve hot dogs too, if you're in that kind of mood.
Carolyn: Whit's has been one of my favorite things about going to college in Ohio since my first year. The basic frozen custard is so good, I don't even want to top it with anything (and I don't even care that it's not technically ice cream!). 5/5
Linnea: There's a reason why Whit's has spread to five states. This will always be my favorite. 5/5