If it's Wednesday, it must be Weaver…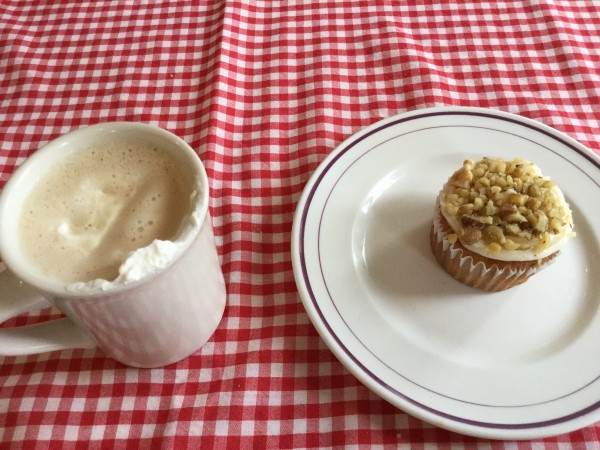 Something you'll almost certainly hear about at any Kenyon tour or info session is how many traditions we have on campus. Some students might say our traditions are silly, though there's a good chance they will still advise you against walking over the seal in Peirce or through the wrong side of the College gates. Whether watching the faculty process down Middle Path in their academic robes partially fulfills your dreams of attending Hogwarts or isn't really your thing, these pomp-and-circumstance moments occur mostly at the very beginning and end of your time here. While I do quite enjoy these big events, there is a different kind of Kenyon tradition that takes place on a smaller scale and likely will end up playing a much bigger role in your day-to-day experience. Here is a sampling of some of my favorite Kenyon fixtures that help to keep me going throughout the week:
PB&J Tuesdays
From 11:15 a.m. to 1 p.m. every Tuesday, the Gund Gallery hosts a free PB&J bar in their lobby. And we're not talking just the basics, either. Each week's spread includes varied bread choices, more than 25 flavors of peanut butter, jam, Nutella and other spreads, and a featured ingredient (specials from past weeks have included chocolate chips, pretzels and even bacon). Especially on a nice day, the gallery's sunlit atrium or grassy front lawn offer a lovely change of scenery from Peirce, and already being in the gallery to make a sandwich can be a great incentive to check out the exhibits, which are well worth a visit. Don't forget to check out the curatorial classroom in the rear of the main floor, which often features fantastic short-running exhibits curated by Kenyon students on diverse topics.
Common Hour presentations
Common Hour is the hour from 11 a.m. to noon on Tuesdays and Thursdays. Classes are never scheduled during this time, with the intention that any student will have the opportunity to attend events accessible to the whole community. For this reason, an abundance of speakers, panels and open meetings are presented during these two hours each week. Of course, if all the events you want to attend are happening during the same Common Hour, that can get interesting…
Weaver Wednesday
I didn't get around to attending a Weaver Wednesday until the end of my first year, and I'm really not sure why it took so long. From 9 to 11 p.m. each Wednesday, a different student organization takes over Weaver Cottage to host a social but low-key, alcohol-free event. Weaver Wednesdays are great because you can count on them to involve a fun, relaxing study break activity and some kind of snack, but the specifics are different each week. I've seen everything from crafts (coloring seems to a favorite lately) and TV show marathons to board games, karaoke and trivia. The activities are usually such that you can come and go at any time throughout the event; they have a pretty excellent track record of still having food when I routinely show up at 10:30 after ballroom dance practice. My all-time favorite Weaver Wednesday theme would have to be the "summer birthday party games," which included "Pin the Cat on D-Cat." President Decatur even showed up so as not to miss the opportunity to pin a cat on his own face!
Friday Café
The only downside of this one is that it isn't free, but it is absolutely worth it. This write-up would not be complete without a huge shout-out to the volunteers at the Harcourt Parish House (conveniently located just a couple blocks off Middle Path) who prepare a delicious multi-course meal every single week. Every Friday from 11:15 a.m. to 1:30 p.m., just $7 will get you a lovely plate including a soup, a salad, a vegetarian main course, a dessert (pictured above) and as much coffee or wonderful café chocolat as you'd like (served with homemade whipped cream — arguably the highlight of the whole meal). It's a perfect way to reward yourself at the end of a busy week, catch up with friends or visiting family, or just get a brief respite from Peirce.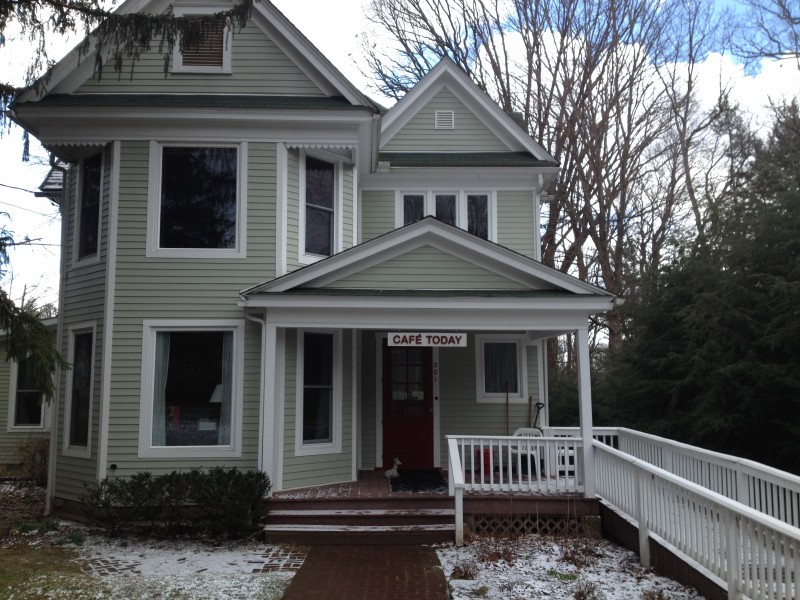 The Parish House provides a cozy setting for Friday Café each week.
Friday afternoon bells
I always enjoy being able to hear the bells from the Church of the Holy Spirit's tower around campus, as they remind me of being in a European city. Until they start playing "Do You Hear the People Sing," that is. From 4 to 5 p.m. each Friday, a student group called the Pealers changes up the bells' usual repertoire. Throughout the week, the bells ring out each quarter hour on an automated system, but on Friday afternoons, student musicians take over, pealing at the beginning and end of the hour and then offering an impromptu recital of (usually) recognizable songs, from traditional Kenyon songs (we have not one, but four!) to popular movie themes. Yes, it can get loud if you're near the church, but it's a very fun and festive way to ring in the weekend.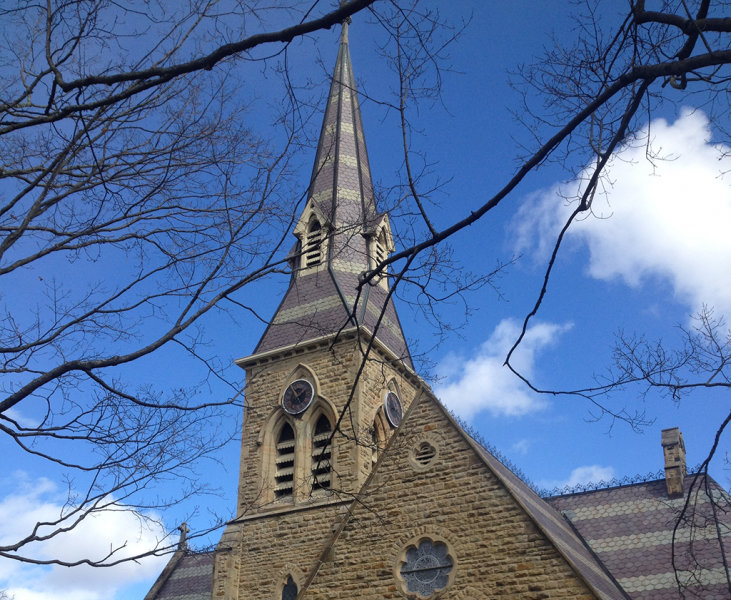 The Pealers ring in each weekend from the bell tower of the Church of the Holy Spirit.
---
Well, that just about fills up one week in Gambier, and that's only the beginning! Dance practices and play rehearsals tend to keep me a little bit busy, so I have yet to check out Monday evening figure drawing, Social Board's bingo nights, or the gallery's PM Atelier art workshops, but I certainly hope to remedy that before I graduate.