Lords and Ladies of the Faire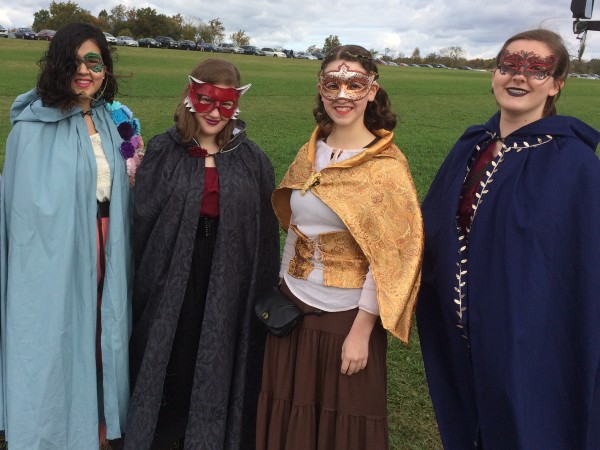 A few weeks ago, I went on an off-campus trip coordinated by Kenyon's Tabletop Club to the Ohio Renaissance Festival, held each fall in Harveysburg, Ohio (not far from Dayton and Cincinnati)!
Several of my friends on the Tabletop board had coordinated funding for the trip, so participants received free transportation and admission to the event. We were very excited when we arrived at the festival, because while planning the trip someone had suggested, "Wouldn't it be cool if we were all wearing cloaks?" and thanks to an all-day costume workshop over fall break (and several subsequent late-night sewing parties), we managed to make this a reality. We lucked out with perfectly clear, early autumn weather – not too warm or cold for our costumes.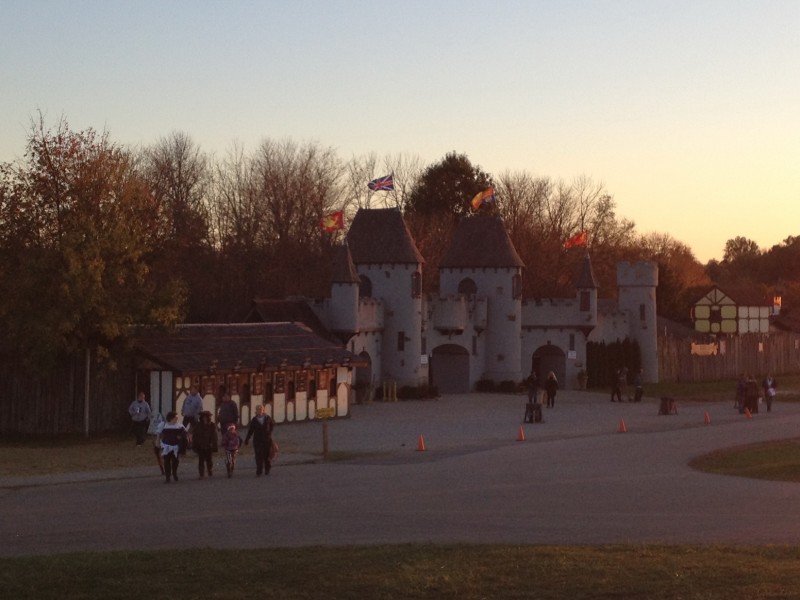 We arrived around lunchtime and had all afternoon to spend at the festival, so we started out just exploring the lay of the land. I'd actually never been to a ren faire before (strangely, seeing as I love history, costuming, and the overall fantasy and steampunk genres) so I don't have much grounds for comparison, but the Ohio faire was a great size for the amount of time we had. It's impressively large, without being totally overwhelming to cover in a day. The grounds are also specific to this event, with Renaissance-inspired permanent structures to house all the vendors and performance spaces.
If you've never been to a ren faire, the main draws include browsing shops with a wide array of period and fantasy clothing, accessories, and décor; eating and drinking (somewhat) thematic snacks, showing of your costume and admiring those of the performers and other fairgoers; and taking in a variety of entertainment (jousting and the "Mudde Show" are staples of the Ohio faire) – all of which we did quite successfully, in my opinion.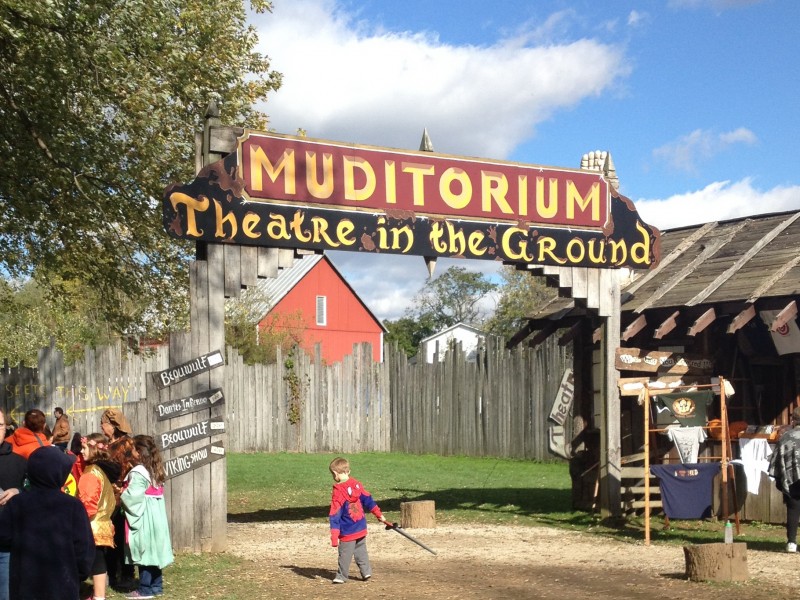 The festival offered a nice variety of food and an amazing assortment of shopping options, with reasonably affordable prices considering the type of event. (Certainly a pleasant surprise compared to what I'd expect in my home region of the New York metropolitan area.) This is definitely not an event where you want to blow all your money at the first few stands, and after careful consideration our group's haul included some exciting new dorm decorations, several headpieces and masks, and a very cool compass. (After some deliberation, no battle-axes were purchased.)
Highlights of the day included seeing all of our costuming efforts pay off, not destroying aforementioned costumes at the mud show, and seeing how many masks one friend could add to her already impressive collection in one afternoon, but really the best part for me was a whole group of my friends setting aside a lovely day to spend together off campus. Being "that friend with the (especially) insane schedule" I often miss out on these kind of events, and I'm so glad that I was able to be a part of this one.