My Big Fat Kenyon Thanksgiving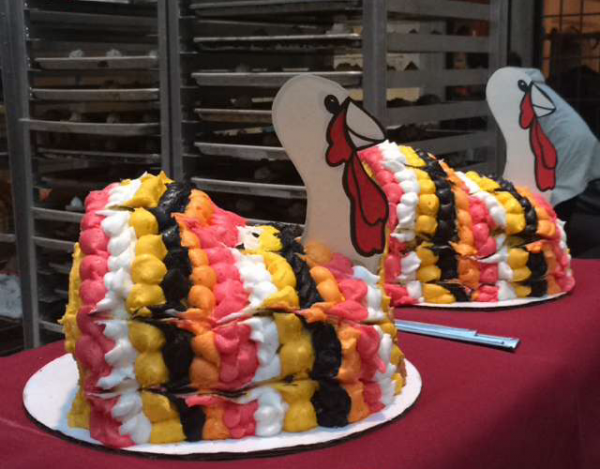 As Kenyon students stuff huge quantities of laundry into too-small duffel bags and return home for a week's break, I thought now would be the perfect time to do some Thanksgiving-themed reflection and appreciation. I present my top-nine list of what I'm grateful for at Kenyon:
1. Peircegiving
As a dedicated Peircegiving enthusiast, it only makes sense that my second favorite day of the year, behind Christmas, has the #1 spot. Peircegiving can only be described as if Hogwarts had a massive, magical Thanksgiving feast, but at Kenyon. It also doesn't hurt that the desserts are literally worth waiting in a 3-hour line for. No joke.
2. Michael Bublé's Christmas album
The Deluxe Special Edition, obviously.
3. My advisor, Professor Davidson
As someone who came to Kenyon looking for close relationships with professors who genuinely care about you as a whole person, not just a student, I haven't been disappointed. Professor Davidson is just one of the many professors who help make Kenyon feel like home.
4. Old Kenyon sunsets
I just can't resist.
5. Wiggin Street Coffee
I genuinely do not know what life would be like without my usual Wiggin Street Mocha, and the almost daily encouragements and kindness from Wiggin baristas that come with it.
6. The English department
If you imagined the nicest, smartest professors of all time, classes ranging from Shakespeare to Toni Morrison, and all of it set in a location that can only be described as heaven for writers, you would realize you were merely thinking about Kenyon's English department. My own personal bias as an English major aside, an English class at Kenyon often completely changes the way you think about the world, along with being consistently enjoyable.
7. The omelet station at Peirce on a Monday morning
I swear to you, these omelets are gourmet. Throw in a Peirce hash brown triangle and you're guaranteed to have the best possible start to your week.
8. The National Dog Show
Following the end of the Macy's Thanksgiving Day Parade, my favorite thing is to tune into the dog show and watch dogs run around on TV, all while thinking about the mounds and mounds of stuffing I'm going to eat later. You can't forget to send at least 50 photos of dogs to all your Kenyon friends whom you're currently missing way too much to be emotionally possible. (Still no clue why the golden retriever never wins, though.)
9. The Kenyon community
Yes, I know it's cheesy, but I can't help it. Without the strong community formed by students, faculty, staff and Gambier residents, Kenyon wouldn't be the wonderful place that it is. I'm forever thankful to all the people who have made my time thus far on the Hill so incredibly memorable.
Whether you love Thanksgiving or not (but who doesn't?), it's hard to ignore how much there is to be thankful for, especially at Kenyon this year. And, even if Thanksgiving isn't one of your favorite days, at least with the coming of the holiday season it will soon be socially acceptable to blast Michael Bublé and Sheri Lewis's "Lamb Chop's Special Chanukah" from your window.