On Dancing, With the Kenyon Stars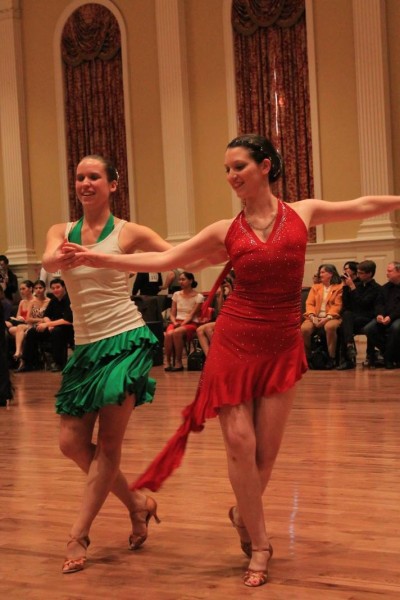 Editor's note: Director of Housing and Residential Life Jill Engel-Hellman won the mirrorball trophy on Friday night, dancing with Richard Dennis '17. The event raised over $1,000 for the Winter Sanctuary.
Since I wasn't an athlete in high school, the Kenyon Athletic Center (KAC) wasn't a main selling point of Kenyon when I was a prospective student, despite its impressive facilities. Flash forward three years, and I'm there most days — almost always in heels. I was interested in joining the Ballroom Dance Club since my overnight visit, but it has become a more important part of my life than I ever could have imagined.
What I love most about ballroom at Kenyon is its collaborative nature and all the wonderful people I've met dancing here. We have a professional coach who instructs on Mondays, but three other evenings each week our experienced dancers take turns teaching lessons for the rest of the club. We coordinate trips to four or five competitions each year, and while preparing for those is a sizeable time commitment, we also welcome new social members to drop by any time for lessons or events. Our club also performs in several on-campus showcases, and my favorite one is just around the corner.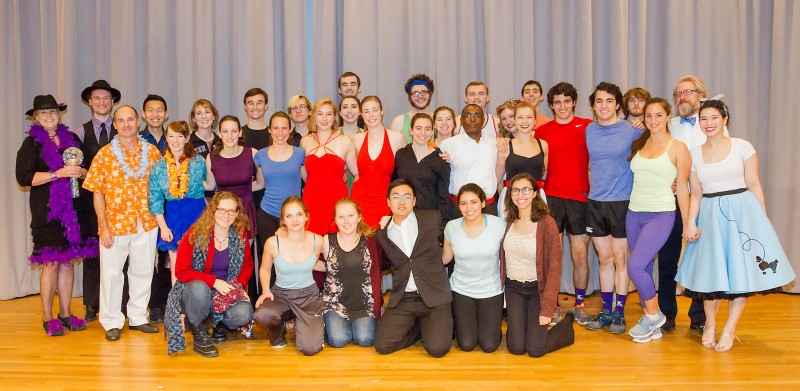 The participants of DWTKS 2015 celebrate a successful show!
Inspired by the popular Dancing With the Stars TV show, our annual Dancing With the Kenyon Stars fundraiser pairs upperclass ballroomers with staff and faculty for an evening of fun, informal competition, all for the great cause of supporting the Winter Sanctuary homeless shelter in Mount Vernon. Professor of Music Benjamin "Doc" Locke provides humorous, pun-filled commentary as our perennial emcee and a panel of faculty judges (usually with no more dance background than the rest of the audience) awards each couple a numerical score, but ultimately it's up to the audience to vote for the winning team. This year I will be one of the dancer-choreographers competing, something I hoped to have the opportunity to do since my first year.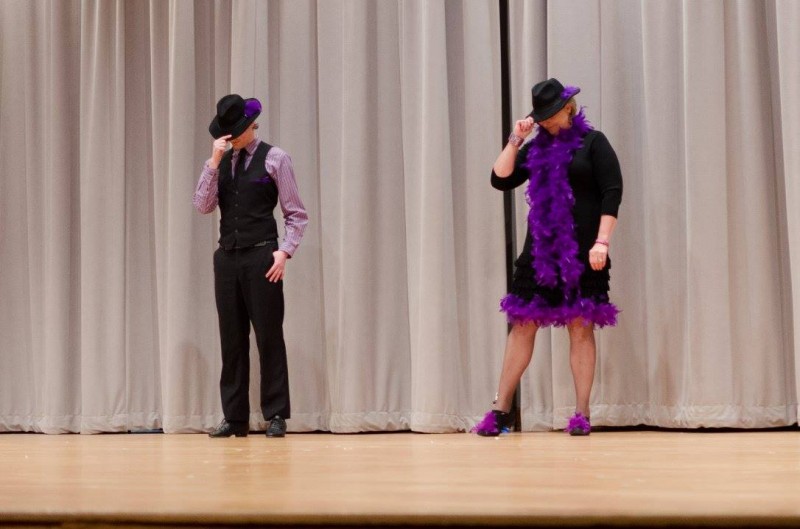 Last year's winning team: Eric Niehans '16 and Vice President for College Relations Heidi Hansen McCrory.
I was assigned my dance, the American Foxtrot, and my partner, Professor of Mathematics Bob Milnikel, in early October. After a meet and greet with the four other pairs, we have scheduled our own weekly practices (finding a mutually convenient time was often one of the biggest challenges!) first to go over basic steps, and then to drill choreography over and over. I am excited to be dancing to one of my favorite classic songs, Frank Sinatra's "The Way You Look Tonight," in a routine inspired by entertainers of that era.
I was a bit nervous about choreographing for the first time and there's definitely been a bit of a learning curve, but having experience both leading and following at competitions and socials proved very useful since I understand both sets of steps. Professor Milnikel has been a pleasure to work with throughout this process. I am very appreciative of his enthusiasm and flexibility, and his musical experience has been a great help.
As both an event coordinator and competitor, I've been very busy with final preparations since returning to campus from Thanksgiving break, but overall we are nearly ready and I can't wait to see what everyone else has prepared for this year's show!
Dancing With the Kenyon Stars will take place in Rosse Hall on Friday, December 2 at 8:30 p.m. Admission is free, but for a $2 donation audience members will receive a ballot to vote for the winning dancers. All proceeds benefit the Winter Sanctuary in Mount Vernon.