On Voting From Abroad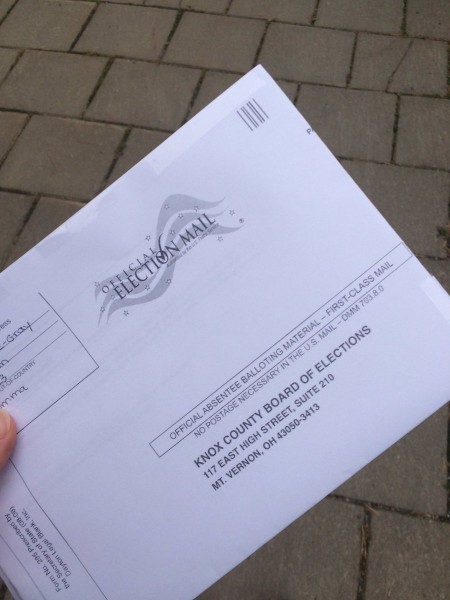 A few days ago, I went to the neighborhood grocery store/post office to mail my absentee ballot (in Sweden, apparently, you take care of your post-related needs in a small nook behind the dairy products). A few weeks after I'd decided to spend my fall semester studying abroad, I realized that would mean I'd be voting absentee in my first general election. At that point, I didn't know just how consequential this election would become.
Nearly all of the Swedes I've met follow American politics closely, and they all seem to want to talk about the upcoming election with me, a "real American." Eventually, I understood that this isn't just because American politics are so sensational at the moment – it's because American policy, for better or for worse, affects the whole world. I've seen people reading newspapers on the subway – newspapers all in Swedish, but featuring full color, front-page photographs of the candidates. When I turn on the TV in my apartment, I can't understand much of what the news anchors are saying, but I can tell who they're talking about.
There's a striking difference between Swedish and American elections: In Sweden, for the most part, people vote for parties, not people. Essentially, this means no attacks on an individual's character, no digging into a candidate's complicated past, no comparing mannerisms or dispositions or temperaments – none of the dangerous rhetoric and personal victimization that has made this election season so deplorable. Swedes vote for a party, and whoever happens to be representing the winning party ends up holding a leadership position. Most of the Swedes I've talked to are also pleased with their government, something I spent a while talking about with my contact family. "We pay a lot in taxes," said my contact dad, "but we get it back in other ways. If we get sick, we don't have to pay. Our children go to university for free. When my parents had to go to a home for old people, the government took care of them." I was astonished to hear such pride in his voice.
I've never been particularly proud to be an American – in fact, I've always had a strange relationship with the United States. I'm lucky to have been born in a place that so many people dream of calling home, while simultaneously, I feel deeply ashamed of the injustice, intolerance, and hardships that I know occur in the country I consider mine. I grew up in the midst of a highly contentious war, which I think made the United States come across as even more flawed over the course of my childhood.
But yesterday, filling out my absentee ballot, carrying it around the corner to the grocery store/post office, buying a stamp to send the envelope marked "Official Election Mail" across the Atlantic Ocean to Knox County, Ohio, I felt something that can only be described as pride. I get the same feeling when I see Facebook posts from my politically active friends at Kenyon, who've been diligently working to register people in a state where every vote counts. I've always respected how thoughtful and engaged the Kenyon community can be when the situation demands it, and even though part of me wishes I could be there to engage in all of the political discourse happening on campus right now, I'm happy – and proud – to be representing Kenyon from abroad in this election.