Platinum Chef: Battle Tamarind Paste
The meal we planned to make sounded marvelous. A nest of angel hair pasta covered in a lemon-olive oil sauce and tossed with sautéed baby shrimp and roasted squash would be the appetizer. A thick cut bone-in lamb chop served with a small arugula salad tossed with balsamic dressing and a little parmigiano cheese would be the main course. Three sauces would accompany the chop: one of cilantro-mint, another of spicy habañero, and a third of balsamic demi-glaze.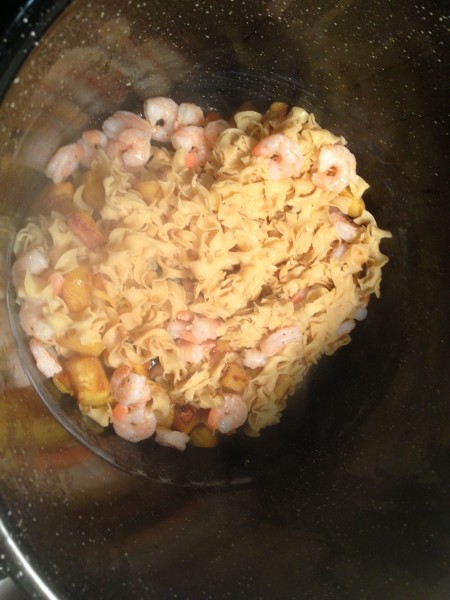 (Luckily, we did manage to make a portion of the pasta...just not during the competition. This past Sunday, Willy, Lizzie, and I made a meal to celebrate Easter. First came the pasta, then baked brie, and finally two filet mignons cooked...well, cooked a little more than they should have been)
The meal we planned following learning that the secret ingredient was tamarind paste was slightly less delectable. A crepe filled with assorted fruits (blackberries or mango preferably) and two sauces would be the appetizer. The sauces would be a tamarind, brown sugar, honey, coconut sauce, and a reduced strawberry rhubarb and blackberry jam combination. And a Pad Thai tossed with sliced carrots, scrambled eggs, and red pepper flakes in a tamarind cayenne pepper sauce with ginger, garlic, lemon, and brown sugar served with a tilapia filet sautéed in safflower oil would be the main course.
The meal we cooked was even less tantalizing. A crepe stuffed with sautéed Portobello Mushrooms and topped with a tamarind-red pepper sauce and whipped cream would be the appetizer. And a Pad Thai tossed with cauliflower, onions, asparagus heads, and scrambled eggs in a tamarind cayenne pepper sauce, and served with a sautéed chicken cutlet on the side would be the main course.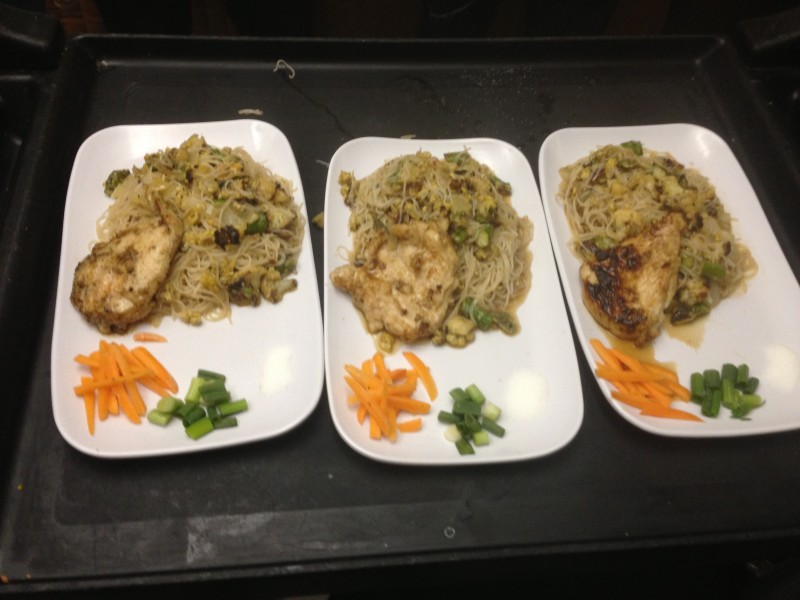 (The Pad Thai. We served it with chopped carrots, chives, and a pile of granulated sugar. And yes, the portion size was way too big. We should have saved some for ourselves...)
You see, when Willy, Jackson, Lizzie and I entered Platinum Chef we believed we would provide the ingredients ourselves. After emailing Chef Chad we discovered that AVI's version of Iron Chef also included a secret ingredient and that all other ingredients would also be provided. Finally, as the four of us plus Eric, who replaced our late addition of Jenna who was since sidelined with computer ailments, stood in Peirce's Great Hall we learned that we could only choose ingredients from a select pantry.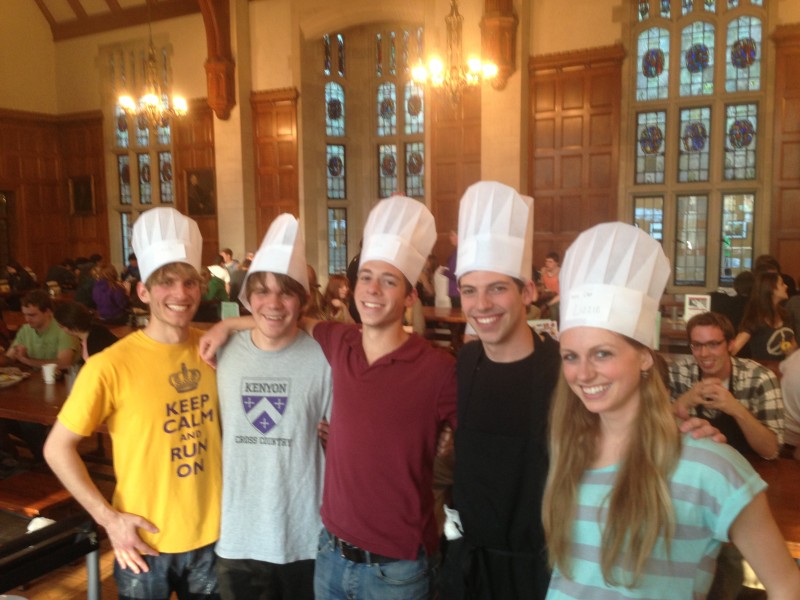 (Team Mitochondria! Willy, Jackson, Eric, me, and Lizzie)
Then, after pulling straws, we found out we would be entering the kitchen last. Our initial plan long since dissipated into the netherworld of our minds and within moments of entering the kitchen our second plan also was shot to ruins as many of the ingredients we so desired had already been utilized by our bitter opponents.
Instead of serving a beautiful lamb chop and being crowned Champion we ended the day in third place, penalized for the use of only a single apron, apparent disorder in the kitchen, and the disconnected nature of the crepe dish. Yet, there were numerous high notes to our competition in Kenyon's Platinum Chef Challenge. We created an incredibly tasty Pad Thai, had a ton of fun, and enjoyed the opportunity to share our cooking with four judges.
Team Mitochondria (Thank you Eric) may have lost the challenge but we had so much fun doing it that it hardly mattered. We wore our chef hats with pride, even Jackson whose head was just a little too big to fit into his. We strode through the kitchen like gods, pouring spices into sauces, sautéing on the stove top, and tasting like pros. Best of all, we bonded over the tasty cuisine that sat before us, becoming ever more interested in cooking more ourselves. What more could we ask for?
Adios,
Jake