Poetry is Like Recess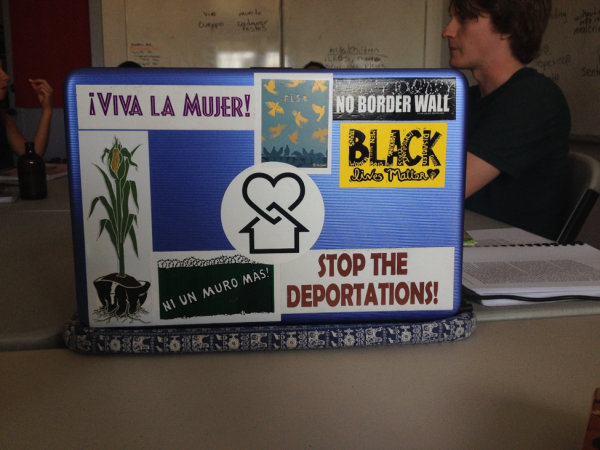 The words "poetry is like recess" stumbled out of the mouth of Juan Felipe Herrera underneath a white tent in front of a jolly group of strangers at the Tucson Festival of Books.
Herrera is our current United States poet laureate. I had read his poetry collection "187 Reasons Mexicanos Can't Cross the Border: Undocuments 1971-2007" in Professor Katherine Hedeen's "Resisting Borders: Contemporary Latino/a Literature" class. As part of the course, I worked with Mount Vernon High School students to understand his poem "Mexican Differences Mexican Similarities." And now, here I was, sitting in the shade, listening to Felipe Herrera discuss his work and life.
"Poetry is like recess…" Herrera's discussion at the Festival centered around how to write poetry in the Borderlands, and specifically how poetry is well-suited for the Borderlands. Poetry allows Herrera to harness Spanish and English. It allows him to dive into the imagery of the desert and the people who live here. It also allows him, perhaps most importantly, to discuss the tough issues of immigration, Latinx identity, and the experience of living around, through and within the Mexico-U.S. border. As a person currently living in Tucson, Arizona, to learn about the Borderlands, his poetry serves as a staging point for my understandings of what it means to live here.
Poetry is like recess because it allows us to break away from our usual patterns of life to experiment with words, and through that process, to experiment with our world. Poetry provides a moment to play, to interact, and to critique. It is poetry's particular toolbox of rhyme, meter, symbols and metaphor that grants us the opportunity to approach our world in such a way. But it's not just poetry that serves as a space of recess, it's all types of words. It's for this reason that words are innately political and innately human.
And those words are everywhere. Tucson is home to a dazzling array of social justice movements. These movements harness words to make us pause and think about what life means on the Border. It is through these words that a moment of "recess" is created:
---
"Ningun ser humano es illegal." (No human being is illegal.)
"No matter where you're from, we're glad you're our neighbor."
"Demilitarize the border."
---
These words represent the informal advances we make toward change in the Borderlands. They are the words on bumper stickers, signs, and t-shirts, but there are activists presenting us with more theoretical and academic ways to understand these issues. In my classes for the Border Studies program, we explore these perspectives and the light they shine on the issues of our geographic and social location.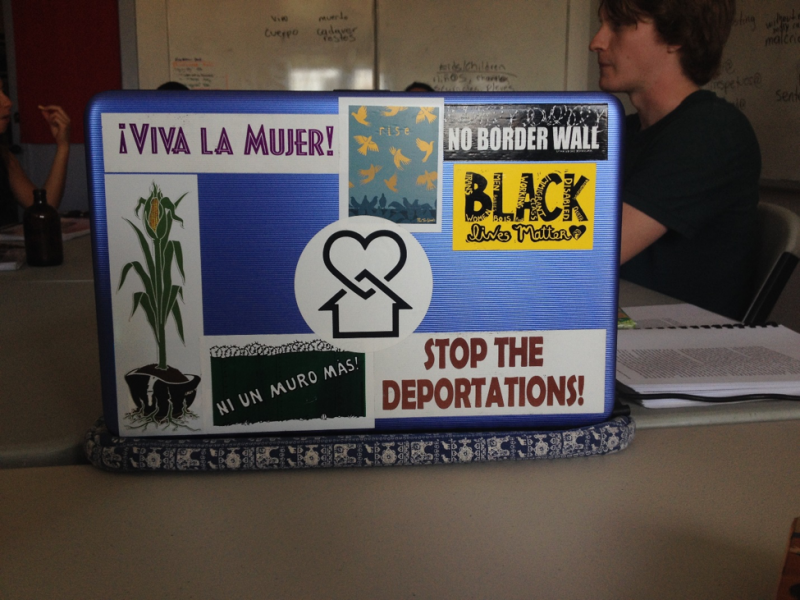 Students in the Border Studies program love to cover their computers with stickers supporting several different movements. (Viva la mujer: Long live women; Ni un muro más: Not one more wall!)
The Borderlands are ripe with the tales and experiences of human exploitation and degradation. One aspect of this is the prison system, which often targets African-American and Latinx populations for low-level crimes. To be certain, this system is present all over the United States, but in the Borderlands, with a dense population of Latinx people, their abuse is even higher.
When we think about how we want to deal with such issues, it can be important to hear the words of someone else. In my "Critical Issues of the Borderlands" class, we build off the words of Angela Davis in "Masked Racism: Reflections on the Prison Industrial Complex":
---
"It ought to be possible to build movements in defense of prisoners' human rights and movements that persuasively argue that what we need is not new prisons, but new health care, housing, education, drug programs, jobs, and education. To safeguard a democratic future, it is possible and necessary to weave together the many and increasing strands of resistance to the prison industrial complex into a powerful movement for social transformation."
---
What Davis argues, with much value, is that our energy should be put toward creating better systems for taking care of our neighbors, coworkers, families and friends. Davis reminds us to synthesize the many movements, such as border demilitarization, immigrant rights and prisoners' human rights, to build a movement that emphasizes the need for true democratic institutions.
The Border is a place where people of all backgrounds clash, mix, meld and integrate. But it also presents the opportunity to create positive change with the strength of many voices. Our work is more efficient, more compelling and more equitable when we acknowledge all of our differences to work toward common goals of justice. I will conclude with some words from Audre Lorde, who presents similar ideas in her speech to Harvard University in 1982, "Learning from the 60s":
---
"You do not have to be me in order for us to fight alongside each other. I do not have to be you to recognize that our wars are the same. … In order to be whole, we must recognize the despair oppression plants within each of us — that thin persistent voice that says our efforts are useless, it will never change, so why bother, accept it. And we must fight that inserted piece of self-destruction that lives and flourishes like a poison inside of us, unexamined until it makes us turn upon ourselves in each other."
---
The most useful work is not just noticing the injustices of our world, but addressing them. And, most importantly, addressing how they affect our individual perspectives. Taking that moment to reflect upon our lives is exactly the "recess" that Herrera talks about.
I was a bit star-struck when I listened to Herrera speak about his work on that April afternoon. It was strange to put a face and a personality — joyful yet introspective — to the words I'd studied in class. It may feel like our academic pursuits are disconnected from our realities, but, in essence, it is those academic pursuits that allow us to lead our lives with more clarity and understanding. His words have stuck with me because I've found them so relevant to all that occurs in the Borderlands. It's not just poetry that is recess, but also the words of Angela Davis and Audre Lorde. They all are recess that we can choose to harness for movement forward.