Popping the Bubble: Kenyon and the 2016 Election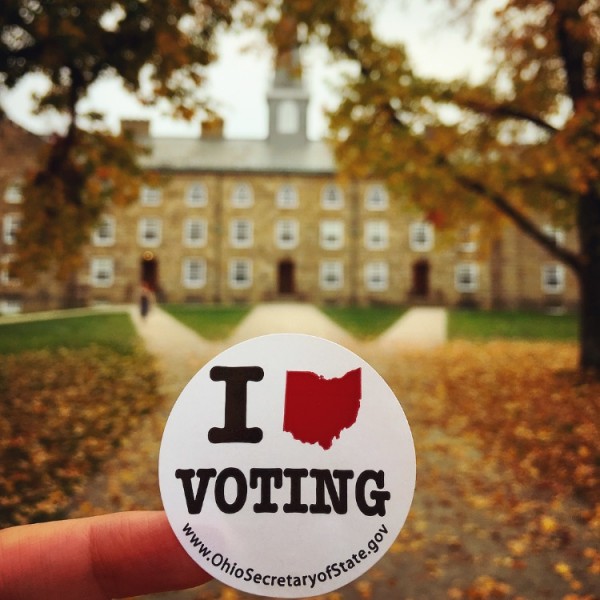 Growing up in Los Angeles, I could easily isolate myself within an ideological bubble, surrounded by people who confirmed, rather than challenged, my worldview. So when I narrowed my college search to two final choices — UCLA, just across town from my house, or Kenyon, half a continent away — the decision was clear to me: I needed to pop that bubble. I needed to come to Kenyon.
Because I plan to major in political science, Kenyon, located smack in the middle of a perennial swing state, has been the perfect place for me. I was just a month into my Kenyon career when I had the opportunity to join my classmates and political science faculty on a bus ride to Washington, D.C., where we attended a conference organized by Kenyon's Center for the Study of American Democracy (CSAD). We listened to panels of professors and accomplished Kenyon graduates discuss President Obama's legacy, critique the media's role in the presidential campaign, and prognosticate about the future of American foreign policy. And upon our return, there was plenty of action back in Gambier, as hundreds of students came together to watch live-streamed presidential debates, to see Senator Tim Kaine speak, and finally to vote for our choice of president. After the polls closed, the energy on campus was palpable, and I was excited to join in a results-watching party as campus TVs were tuned to CNN, MSNBC, and Fox, our eyes glued to the screens.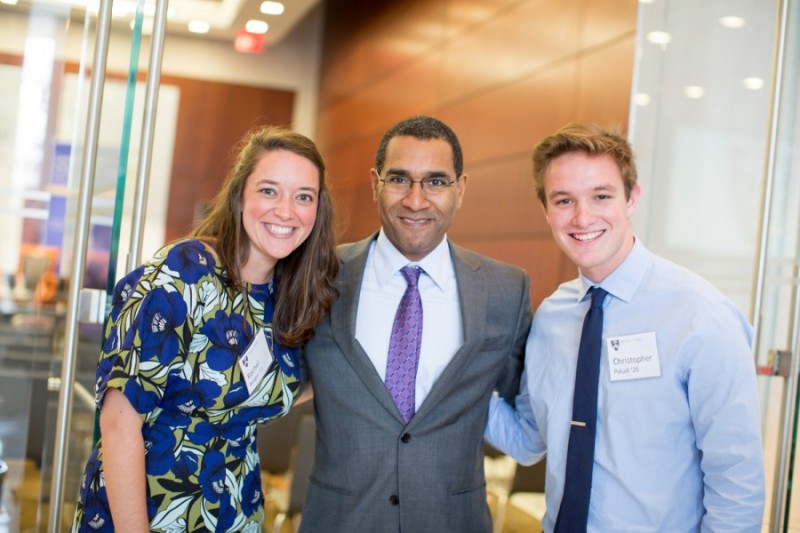 Hanging out with President Decatur and Rachel Berger '11 at the CSAD conference in D.C.
However, the result of this presidential election was hard on many students at Kenyon. Personally, during the course of the campaign, I lost hours of sleep over Donald Trump's candidacy, over the indecency and danger of it all, and ultimately kept vigil on November 8 to take care of some who were acutely affected by his victory. That night, I was worried about them and about our community, but the next day gave me hope, because of the flood of support from every corner of the College. Students gathered in the dining hall to share their thoughts and feelings, faculty and administrators were consistently and overwhelmingly supportive, and the student body came together like I hadn't yet seen.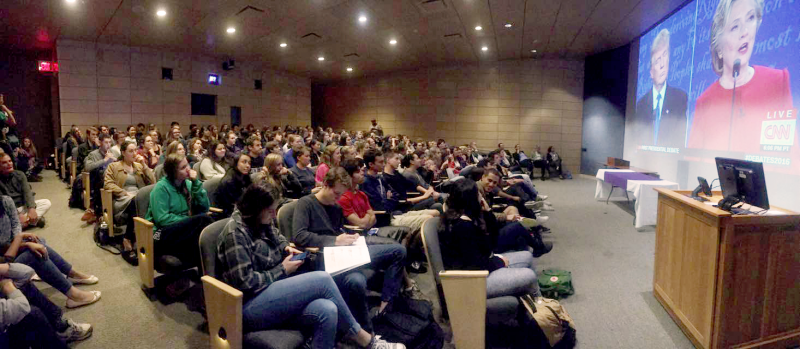 A packed house for a debate watch party at Kenyon's Gund Gallery theater.
Nevertheless, many students I talked to that morning were hurt and confused, unable to understand how anyone could vote for Trump. Some were furious that millions of people made that decision. I understood their reactions, for throughout the Republican primary and National Convention, it was easy for my disgust with Trump to morph and manifest as distaste for anyone who would vote for him. I could neither emotionally nor rationally put myself into the shoes of a Trump voter.
Coming to Kenyon changed that. Living in Ohio has helped me see that in their homes and in their communities, people are not Republicans or Democrats, but instead are Rotary Club members, parents and neighbors. While many people talk about wanting to understand opposing political beliefs, few look past the vote to understand the person casting it, which I believe will be key to our country's success and our cultural health. Though I may strongly disagree with someone's vote, the relationships I've formed with members of the Kenyon community — from walking a neighbor's dog to having dinner with the minister who leads one of my weekly Bible study nights — have helped me understand that decision without our ever talking politics.
During my first visit to Gambier, I was told that "Kenyon is a blue college in a red county in a purple state." While that assessment is technically correct, to simplify the interplay among Kenyon, Knox County and Ohio to such reductive demography is to lose much of what makes this place special. Choosing Kenyon gave me the opportunity for empathy through proximity, in the words of Bryan Stevenson, a criminal justice-reform advocate who visited campus early this semester, and the chance to build relationships with those who live differently than I do. While I could have chosen to go to a coastal school, where I would be comfortable in the same environment in which I had spent my whole life, in one semester here, I already feel like I've grown as an individual, as a scholar, and as a neighbor. I look forward to spending the next three-and-a-half years at Kenyon, learning to listen to those around me, to contribute to our supportive community, and to prepare to make a difference for our country.