Post compsing and ballet: my last 8 weeks at Kenyon
So here's the funny thing about finishing my senior comprehensive exam for English this past Saturday: while I definitely feel relieved, I also feel kind of sad. The end of comps means graduation is rapidly approaching, and now that I can't stress about the test I have to focus on figuring out my post-college life. I'm still applying for internships and jobs--and waiting to hear back from others--and it's all just kind of surreal. For the first time in my life, I have no idea what comes next.
However, that doesn't mean things are all doom and gloom! Read on for a run down of all the things I'm really excited about as I head into my last 8 weeks of college.
1. Being done with comps
(Ahh Colin Firth. No one can wear a sweater quite like you)
First of all, I would like to take this moment to provide a comps PSA of sorts for future Kenyon students: do NOT freak out (excessively) about comps or dread senior year because of them--senior year should be fun! Obviously if you're pursuing honors comps for any major that might end up taking a fair amount of time (Honors English has a ~50 page paper to write, for example) but regular, non-honors English comps--and regular comps for a lot of majors--really aren't that bad. For English we only had to write a 9-12 page paper and take a 4.5 hour exam on a set reading list (on 13 works, some of which are very short). Think about it--that's just like taking two finals in a day, or 2 AP exams. It's definitely manageable and really not that stressful (except for the week before when, let's be honest, you finally get around to studying).
Anyway, don't-freak-out advice aside, it's really nice to not have the test hanging over my head anymore. Also, I've realized in hindsight that watching my beloved copy of the Colin Firth version of Pride and Prejudice in its (6 hour) entirety over spring break was definitely not procrastinating, but was in fact the perfect way to remember the details of the first proposal scene between Darcy and Elizabeth (which I wrote about on the exam). Never underestimate the hidden worth of a BBC costume drama.
2. Going to a ballet yesterday!
(The inside of The Ohio Theatre, where I saw "The Rite of Spring")
Yesterday I attended a performance of "The Rite of Spring" at the Ohio Theatre in Columbus. While I don't get to go to Columbus as often as I would like (sadly I don't have a car), the occasional times I do go are always really fun. Columbus is a friendly, vibrant city with an amazing arts/food district called the Short North. If you don't end up wandering along High Street and sampling a scoop of Jeni's salty caramel ice cream at least once throughout your Kenyon career, you're seriously missing out.
That being said, this time around the trip was strictly ballet-related, so I didn't end up at my usual favorite spots in the Short North (aka clothing boutiques, Jeni's, and Nida's Thai on High). The trip was organized by research librarian Carmen King, who sent out an all-campus email a couple weeks ago offering discount tickets to "The Rite of Spring," and me and two of my friends decided to sign up. The show was a collaboration between Columbus's ballet corps (BalletMet) and over 100 musicians from the Columbus symphony, all in honor of the 100th anniversary of Stravinsky's once riot-provoking piece. So this past Sunday at 1, we got onto a bus packed with Kenyon students, professors, and some of the professors' families, and headed to the Ohio Theatre in downtown Columbus. As you can tell from the picture, the theatre was SO COOL, and me and my friends wandered around for a while just taking pictures and exploring before we found our seats.
Overall, I loved the show: the symphony was incredible, and the ballet's avante-garde choreography (a BalletMet original) was really fun to watch, complete with crazy costumes (including several dancers wearing vests and boxers) and brightly colored purple pointe shoes. And as an added bonus, Jeni's designed a custom flavor for the show (Absinthe and Meringues) that was available for sale in the lobby (which I not only bought but savored throughout most of the second act). While ballet may not be your cup of tea, I definitely recommend taking advantage of Kenyon-sponsored off campus trips during your time here. Social Board and other student groups usually organize at least 2-3 trips to Columbus or its shopping district (Easton) each semester.
3. My friends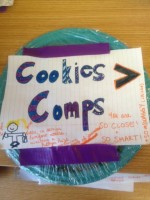 (The comps care package my best friend made me. Thanks Rebecca!)
Who else but your best friend would think to hand deliver a package of warm cookies to your dorm room when you're dealing with night-before-comps-cramming slash a terrible cold?? As I was sitting in the VI this past Saturday night with a table of my closest friends, laughing about weird snapchats, failed job searches, and our freshman year awkwardness, I was struck by how lucky I am to have such a wonderful, funny, caring group of friends. As scary as graduation/ the Real World may be, I'm so grateful for my Kenyon family going into these last few weeks.