Racing Through College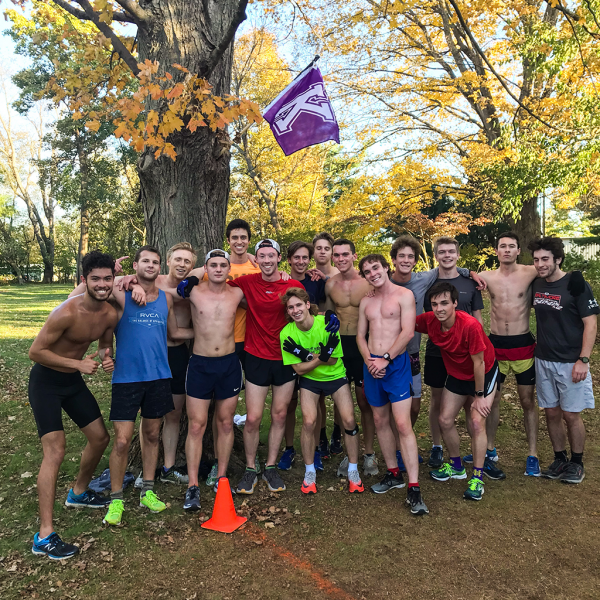 I am more than halfway done with college, and that's a difficult concept to wrap my head around. When I moved into my first-year dorm, four years sounded like quite some time. Looking back, that is not the case. It has been a fun go of it so far, and many of my fondest memories have come from runs with my teammates on Kenyon's varsity cross country team. There's no group of people with whom I'd rather run 50 miles per week and no place I'd rather do it than the rural roads and trails surrounding Kenyon.
In September of my freshman year, my friend Tommy and I set out to run seven miles on a route we call Ridge Seven. The route starts on a road fittingly called "Big Run," shoots straight uphill for a mile and a half, and then you coast down the ridge back to Kenyon for five-and-a-half miles. As nervous first years, Tommy and I wrote down all the necessary turns to complete the route on Tommy's arm before setting off. Six-and-a-half miles later, we were very lost.
Tommy and I missed a turn, ran all the way into downtown Mount Vernon, and asked a lady how to get back to Kenyon in the drive-thru of a McDonald's, to which she responded: "Kenyon? That's like 10 miles that way" as she pointed in the direction that led us further into town. The best part was that she wasn't wrong. We ran eight miles from that point back to campus. Exhausted, we took our socks and shoes off and waded out in the Kokosing to let the water cool us off. When we finally got up to the dining hall to eat dinner, we had a crazy story to tell.
That's the only time I have accidentally run 15 miles, but the last two years have been chock-full of similarly spectacular (and often grueling) runs with my teammates. We do it because we buy into the camaraderie of the sport. Cross country meets are won with sheer hard work. You never get on the bus to go home and talk about how some other team got lucky after a race. In our sport, the better prepared team always wins. For that reason, we train as hard and smart as we can from May through November to be ready for the excitement of the final few races. It's honestly a lot to balance, time wise. There are days where the two hours I spend running seem like they could be excellent study or nap time. That being said, there's never a day where I regret having run, so catch me out on Big Run Road with my fellow Lords, tearing it up for the foreseeable future of my Kenyon career.