Serving Hope in Knox County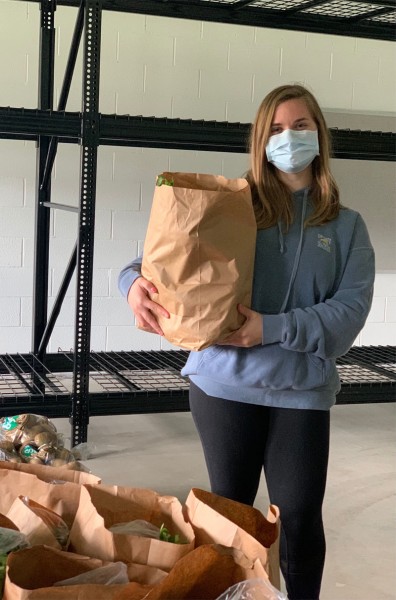 For the past year, Jess Dannery '22 has worked as an intern volunteer coordinator for Center of Hope. In 2019, a Center of Hope chapter was started in Knox County and in March 2020 a food hub and service center was opened in Bladensburg, which is situated in rural Eastern Knox County. In 2020, over 8000 people from 12 counties received free groceries. Part of Center of Hope's goal is to combat food insecurity in rural Ohio.
Due to the circumstances with COVID-19 last semester, Dannery worked remotely. "A lot of creative solutions and ways of engaging the community have come out of the pandemic," Dannery says. This semester Dannery's internship is both inperson and remote, and being able to meet and interact with the customers at the Center of Hope has been a vitalizing experience.
Every Tuesday, volunteers help to pack and distribute food through a drive up service model at the Bladensburg location. On other days, a mobile food program operates at partner sites. Although COVID-19 has limited group volunteering, there are many ways for volunteers to get engaged and to help out in COVID-friendly ways. For instance, on Tuesdays Dannery helps to facilitate the food distribution program that provides people with fresh foods through car-side pickup.
She is working to encourage other students to get involved. Syou Nam Thai '22 has started helping Dannery with construction projects like sanding tables to prepare for the upcoming opening of a nonprofit grocery store. For Dannery, the best part of the job is the conversations she has with the customers at Center of Hope. "There's a mutual respect there," Dannery thoughtfully remarks, describing how she'll share food with a customer, ask them about their day, and they'll ask about hers in return. Dannery speaks of the power of her internship experience in terms of the humanizing everyday moments it brings. "It has taught me so much about empathy, compassion and kindness, and creating a welcoming environment. Even though we need to be physically distant sometimes, there's still a lot of care there."
Being a native Ohioan herself, Dannery has some sense of the backgrounds of people from surrounding counties. She grew up near farms, so gardening and the outdoors shaped her life as a child. While Knox County is more rural than southern Medina where Dannery comes from, her history gives her a unique perspective of life in rural Ohio. Sometimes, Dannery says, customers at Center of Hope recognize the place she is from and share personal connections with her. Dannery encourages anyone who is inspired to get involved to reach out to her or the Center of Hope directly. They are happy to accommodate volunteer times that work for individuals.
"Kenyon is only a bubble if you make it one," Dannery articulated. "There are a lot of amazing people living very close to us that have incredible stories and incredible hearts, and I love meeting local people … and bonding over shared interests like gardening ... I feel like it's very grounding and the highlight of my week when I can serve others."
To learn more or get involved, visit hopeinohio.org, or contact Center of Hope at inquiry@hopeinohio.org or 740-200-0689.
This article first appeared in the Office for Community Partnerships spring 2021 newsletter.