Taking and Leaving: Senior Year Thoughts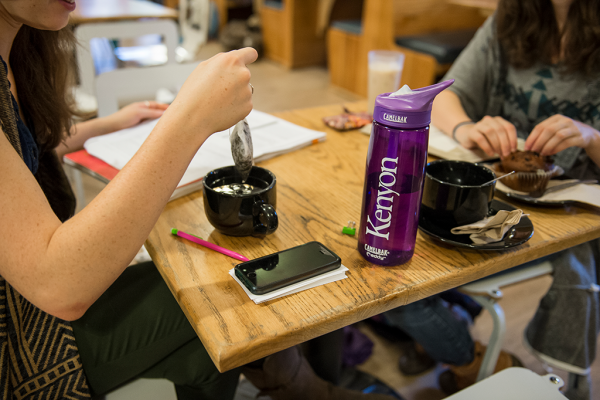 Last Tuesday, I was asked to write down the name of every person who has made an impact on my Kenyon experience. I jotted them down quickly, in a frenzy of excitement. My list contained professors, coworkers, students and administrators at Kenyon. It was mostly women, and then mostly women of color. Looking at my list gave me a flush of joy and pride. These people had seen something in me, cracked it open, and then given me the strength to act upon it. I am sorely indebted to them for the person I am today: gutsy, robust, creative.
The activity was part of the Senior Leadership Series, which aims to coach seniors on how to make the most of their last year at Kenyon and how their skills on the Hill can translate to post-Kenyon life. The series is led by Sam Filkins, Assistant Director of Student Engagement.
Our first session focused on mentorship. Our lists were to help us understand what qualities make a good mentor or leader. These people were consistent, humorous and intelligent. They saw the positive and negative qualities of ourselves sometimes better than we could. Most importantly, they were able to see ahead of us, able to predict what obstacles we might face, able to force us to think about the tough things.
We left our first session with homework: take a younger student out for coffee at Wiggin Street. Be a mentor for a little while. Emulate those traits we'd just discussed.
As a senior, sometimes you grow distant from the students in years below you. You are, instead, focusing on your Senior Exercise (a.k.a. comps). Trying to finish up that last class for distribution requirements. Enjoying time with friends you might not see after you graduate. You get comfortable in your own bubble of friends and professors, and you forget that an entire new generation of Kenyon students is thriving, just out of reach. This was my chance to strengthen and support the next generation.
I eventually chose a student who is now a sophomore. I met her during Orientation last year, when I helped her transition into her first year at Kenyon.
At first, I wasn't sure I had much to offer. But the truth is that everyone wants to be recognized and listened to. Even just being a friendly face is a significant way of supporting someone, of being a leader.
And then there were things I hadn't even realized I could be helpful with. My advice about how to use the Career Development Office, for example. Or my friendships with other students who had completed the off-campus study programs that she was interested in.
As things seem to simultaneously wind up and wind down, I'm seeing myself from above. I watch myself leading my life as a senior at Kenyon and sometimes I forget to slow down and think about what I can leave here instead of what I need to do to graduate from here. What the Senior Leadership Series has reminded me is that my Kenyon education is not just the grades I earn in the classes I take. It's not my performance on comps. It's not even my diploma.
It is the relationships I have here. The mentors I listed on that paper. The listening ear and store of meager advice I gave at Wiggin Street. The time to catch up with a friend I hadn't talked to in a long while. All of that is my education, too.