The Hill is Calling (and I Must Go)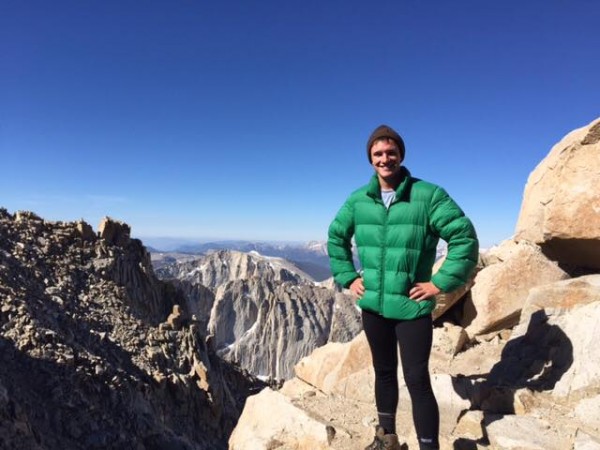 Recently, while catching up with my friend David, he asked me what was the most important thing to happen to me during my first year at Kenyon. I thought for a moment, then settled on the week I spent alone at Kenyon over spring break — specifically, I remembered finding the "Mother Tree," a great ancient white oak in the north BFEC. I remembered how those quiet days spent walking, sauntering for hours, made me want to get out more.
This summer, I did get out more, hiking and backpacking around 100 miles. With my dad, uncle and older cousins, I even climbed Mount Whitney, the tallest mountain in the lower 48 — and although a key to backpacking is reducing the weight you carry, like a true Kenyon student, I found room in my pack for Walt Whitman's "Leaves of Grass," and brought it all the way to the top. While gazing out at America from 14,505 feet, I took a few moments to be thankful for my time spent at Kenyon, for the slow burn throughout the year that ultimately set alight my passion for the outdoors.
I guess I should mention that I hug trees. Literally, and not at all ironically. It's an earnest practice I began at Kenyon during second semester, walking around an officially designated "Tree Campus USA," when I realized how happy our woods make me. Kenyon is where I first read Thoreau and Muir, as well as took up old favorites Dillard and Frost. I read more in that vein upon returning home, singing with Whitman and tramping around with Teddy Roosevelt, but something wasn't right. I missed the campus woods where I read, the BFEC trails I walked, the Kokosing River I fell into, the green expanses where I would run in the vast, undisturbed country so near my door.
I think that although the buildings and traditions at Kenyon are wonderfully old, these things eventually change, and yet Kenyon is still somehow a timeless place. Sitting largely unnoticed high in a tree in front of Rosse Hall, watching the students below walk and read and throw around a frisbee, I feel that it's not just the fact that students have walked under these trees for almost 200 years. Instead, I really believe it's that red-tailed hawk chasing a squirrel, the flowers announcing themselves, the trees eternally welcoming you with open arms — nature is what truly makes Kenyon timeless.
John Muir, father of America's national parks, once famously wrote, "The mountains are calling, and I must go." But that sentence actually continues with "and I will work on while I can, studying incessantly." Conveniently, this is the perfect description of my situation as I embark on my sophomore year: returning to the wooded Hill, to Kenyon, to study incessantly.
As summer draws to a close, I've met the tops of a half-dozen mountains and become well acquainted with the Pacific Crest Trail — but it's the Hill that calls me now. And coming back already feels, somehow, like returning to an old friend.