The Little Perks of Kenyon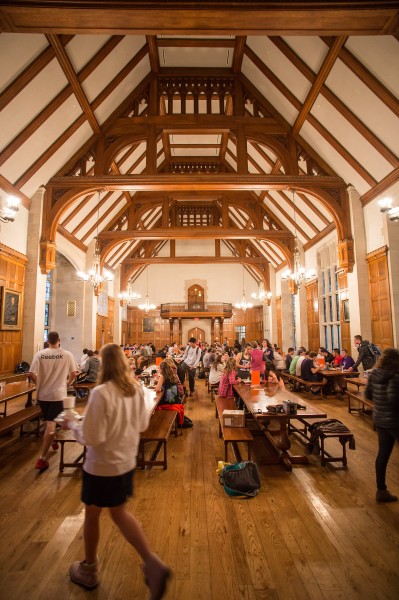 When you're looking at colleges, it's difficult to know exactly what it's like to live on campus after just one visit. Each college has a different feel, and there's only so much you can learn from the admissions brochures and tour guides. There were several things I didn't know about Kenyon when I applied but am now familiar with as a student. Hopefully, this piece gives you some more insight into life at Kenyon.
Friday Café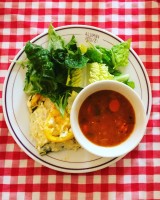 Nearly every Friday, students have an alternative to lunch at Peirce. For $7, they can enjoy a home-cooked meal made by members of the Gambier community at Friday Café. The food is always tasty, and meals include everything from soups and salads to entreés and desserts. I first went to the Café, located in the Parish House, early in my freshman year when a friend and past Kenyon alumna came to visit. She insisted that we go to Friday Café, raving about how good it was. I wasn't disappointed! The food was delicious, and the Café is always full of other diners — students and community members alike. Naturally, the varied social environment is another reason to choose the Café.
Free printing!
This may not seem like a big deal, and you may be thinking, "Well, don't all colleges have free printing?" But I assure you free, UNLIMITED printing is a luxury. Some of my friends at other colleges have free printing, but only for a set limit of prints per semester. At Kenyon, we can print as much as we want, which is helpful when you find yourself handing in multiple essays each week. Plus, some professors prefer that we bring printed copies of the online articles they assign us to class, and I find it easier to read hard copies of articles as well (it's less distracting, and I can take notes on it!). Basically, it's important to love and appreciate Kenyon's printing policy.
The Kenyon Farm
The Kenyon Farm probably surprised me the most about Kenyon. I never expected a liberal arts college to have its own farm! But that's Knox County for you — a farming community through and through. I'm glad that Kenyon acknowledges its connection to the county by giving students the chance to learn about farming firsthand. Each year, a few students can trade housing in residence halls for life on the farm (which means keeping up with all the chores but also being more removed from neighbors). Even if you don't live at the Farm, you can still enjoy its benefits by volunteering during the semester or purchasing fresh chicken and/or duck eggs.
Lack of Meal Swipes
That's right! Here at Kenyon, students can waltz right into the servery without even flashing their K-Card. We don't have to wait in line to enter the servery (we just have to wait in line for food), and we don't have to worry about running out of meal swipes OR having too many swipes left over at the end of the semester. Yes, it does mean that Kenyon has a set meal plan, so you can't reduce the cost by cutting back on meals. But overall, it makes for a more convenient system and allows students to walk into Peirce without having to worry about tracking meal swipes.
The Brown Family Environmental Center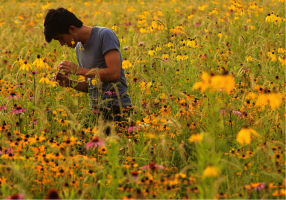 The Kenyon Farm isn't the only alternative housing option on campus. You also can opt to live and work at the BFEC, a 480-acre preserve that seeks to conserve natural diversity and encourages people to engage with nature. Weather permitting, it's also the perfect place for long walks, runs through the trails, picnics, or just getting away from campus. I promise, the walk down the Hill (and back up) is worth it. During the spring and early fall, you also can volunteer to lead field trips with local elementary school children, teaching them about the natural world. I helped out as a field trip leader last year, and I'm glad I did. The kids were so excited to be there, and BFEC staff members are incredibly passionate, making it an experience I'll always cherish. The Earth Day Festival is coming up on April 17, so if you want to see the BFEC in all its glory, that would be a great time to go! It's a free event with different vendors and artisans as well as fun activities and concessions.