Travel Week(s)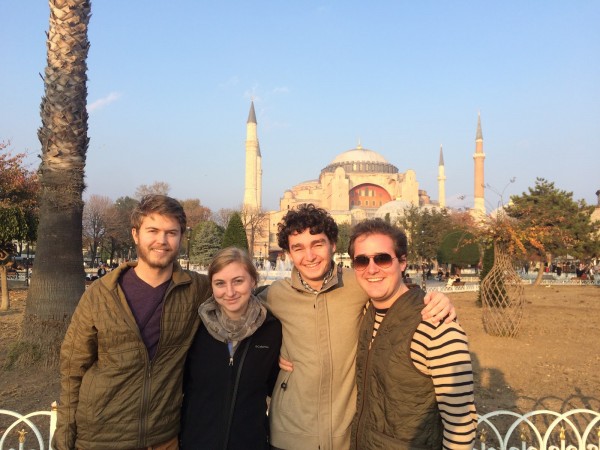 One of the first things that comes to mind when thinking about studying abroad is the travel you do outside of your home base. The way Russian visas work makes this a bit tricky. Due to Russian technicalities with visas, students on my program are not allowed to leave the St. Petersburg area until they have spent two months there. My program then gives us two weeks of travel: one week within Russia with the program, and the second independently.
Our first stop of Russian Travel Week was Kazan. Located in the south of Russia, Kazan is the capital of the Republic of Tatarstan. This incredibly fascinating place showed me just how diverse Russia is. Tatarstan is a predominantly Muslim republic, and the republic has its own language. It was so interesting to see a part of the country so far from Petersburg, and it really showed me the vastness of Russia. A two-hour flight put me in a completely different world compared to Petersburg.
The Kul Sharif Mosque in Kazan
The next stop was the capital of Russia, Moscow. The first thing we learned from being in Moscow is its sheer size. With anywhere from 17-19 million people, it is the second-largest city in Europe. The hustle and bustle of the city was unlike anything I've ever seen. It was like a crazier New York. Everywhere we turned there was such a buzz and such craziness — to some degree it was pretty stressful, especially coming from Gambier, Ohio. I will have to admit, though, that standing on Red Square has been one of the most powerful moments of my life. But, of course, a silly picture is always a plus.
For my independent travel, I visited Istanbul, where I am currently writing this post. I have always wanted to come to Istanbul. I have always been fascinated by Turkish history, culture and life. Upon my arrival to the city, everything I had hoped for was fulfilled. I have never been to a more beautiful and unique city. The skyline of Istanbul, a city of around 20 million people, is not just skyscrapers, but endless mosques. It is something so different to me and something that is unfathomably gorgeous. Also, the friendliness of the Turkish people is such a nice change of pace from the traditionally colder Russians. Here we are greeted with smiles, hellos and other warm gestures. The weather here also is a welcome treat. Every day has been around 65 degrees, while in Russia we were happy if it reached 35.
These weeks have been so much fun, and it has been so incredible to see three vastly different parts of the world. That being said, I return to Petersburg soon, but once I return I only have a few weeks left. I can't believe that this is all ending so quickly, but I am thankful that on my Russian adventure I was able to see two extraordinary cities of Russia and a city that I have longed to see.