Two Perspectives on Founders' Day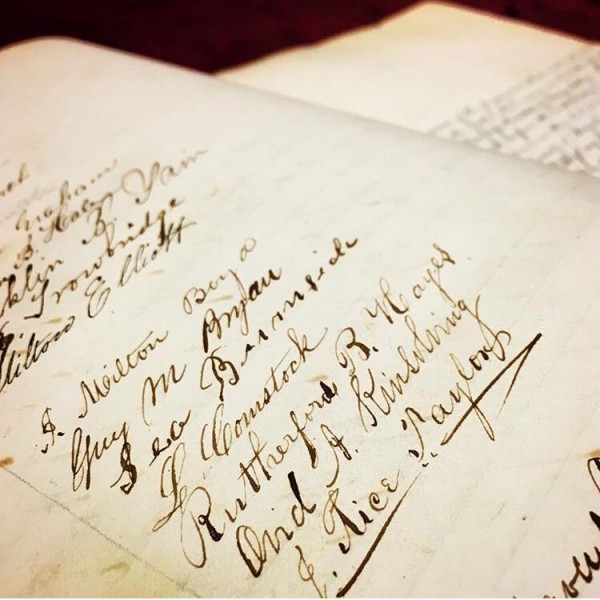 On Thursday, October 27, Kenyon's Class of 2020 followed in the footsteps of nearly 200 previous classes by celebrating Founders' Day and officially matriculating as full members of the College. After reciting an oath of matriculation and being accepted by President Sean Decatur, each member of the class had the opportunity to sign the matriculation book, as has been done by each class since 1841. Two Quintessential Kenyon bloggers reflected on the Founders' Day experience: Phillip Gray Clark '17, who matriculated in 2013 and as a senior serves as Kenyon's Student Council president and chief flag bearer; and Harper Beeland '20, a first-year student who signed the book on Thursday.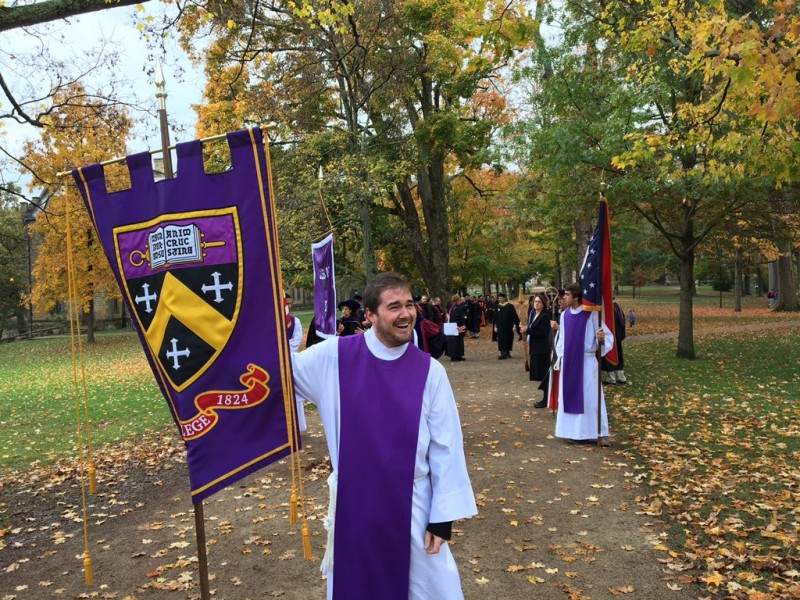 As chief flag bearer, Gray gets ready to lead the procession into the Founders' Day ceremony.
Gray: Wow, it's crazy to me to think that three years have passed since I matriculated. I still remember not fully knowing how to pronounce "matriculate" or even understanding what it meant. I remember my Russian advisor, Professor Olshanskaya, telling us that we would still be having our session of 12:10 Intensive Intro Russian, which admittedly I was a few minutes late for. But most of all, I remember signing the book. I must have practiced at least 25 times to get my trademarked "PGC" down, and of course not having it turn out anything slightly like what I had practiced. As I signed the book, I felt this ethereal sense. I think the best way to describe it would be through the lyrics of the Kokosing Farewell: "But when we are far from Kokosing, We still shall hear a calling bell." So many legacies of Kenyon students have signed that book, and that is one of the most tangible moments of feeling the legacy of all of those before us. By signing that book, you put yourself into the narrative of Kenyon. Now as a senior and Student Council president, it does evoke a feeling of melancholy. Representing the students of Kenyon and hopefully leading them towards greater things makes me so elated, but realizing that my time here is limited is a mixed emotion I have never felt in my life before. And I will be the first to admit, as I sat in the front row flag bearing and singing the song, that the lyrics "Farewell Old Kenyon, Fare thee well" have never hit so close to home.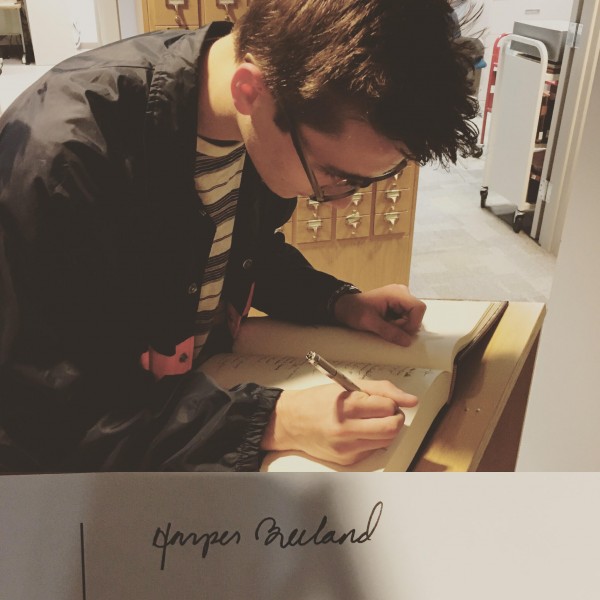 Harper's signature is now in the same book as that of Rutherford B. Hayes, Class of 1842 (albeit in a new volume...the original book ran out of space!).
Harper: While I have never had any trouble pronouncing "matriculate," I seemed to have had a slightly different Founders' Day experience. I'm sure it's mostly because I'm only a first-year, so I probably couldn't appreciate it as much as Gray can. Even so, I wasn't completely blind to the significance of the event; it was clear that something big was happening. Sitting with all of my peers in the middle of Rosse Auditorium took me back to our Opening Convocation in August of this year and how I knew only a handful of people there. But during matriculation, glancing around me, I realized that I had already connected with so many more members of the Class of 2020. If my relationship with these students had solidified this well in only two months, I couldn't even begin to imagine how much stronger that dynamic would be in four years. At the end of the ceremony, as my class took the matriculation oath, we essentially adopted Kenyon College as our intellectual mother. While, in this moment, I knew that I wasn't actually receiving a new mom, I certainly felt like I was being swept into the loving arms of a new family with whom I am sure to share countless exciting, terrifying, and valuable experiences over the next four years of my life.