Unearthing the Future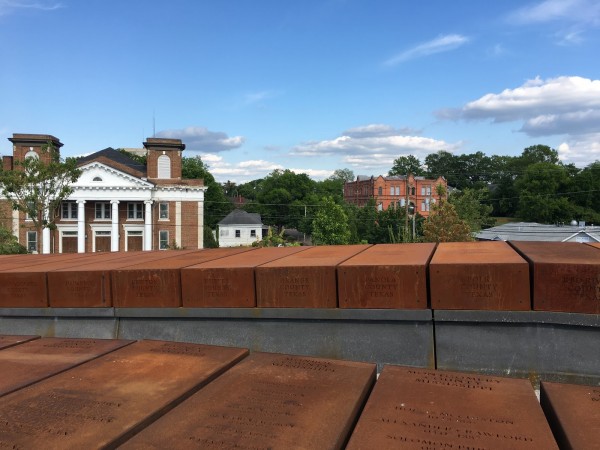 Even though my remaining time at Kenyon is so limited, with graduation only weeks away, I recently found myself on a short but vital getaway. I traveled to Montgomery, Alabama, with a group of about 20 Kenyon students for the Peace and Justice Summit organized by the Equal Justice Initiative (EJI).
EJI is an organization that provides legal representation to those who may have been denied a fair trial, and the summit was held to celebrate the opening of the organization's Legacy Museum and Memorial for Peace and Justice. The Legacy Museum traces African American history from enslavement to mass incarceration, outlining the ways in which our social, legal and political frameworks have failed Black people. The Memorial for Peace and Justice commemorates various lynchings across the United States, with large steel columns displaying the engraved names of those lynched. After EJI's founder, Bryan Stevenson, visited Kenyon last year to give an inspiring talk, we took the opportunity to attend the Summit with duty and happiness.
I boarded the bus with my peers on Wednesday night around 10:30 p.m. and began an adventure that reminded me about what the future could be.
Thursday, April 26
9 a.m. We exit the bus, a bit dazed to find ourselves caught in a downpour right outside Montgomery. After a bit of Waffle House to replenish ourselves, we take a short respite at the hotel before boarding the bus again for our first talk at the Summit.
1:30 p.m. Downtown Montgomery is exactly like many small, Southern towns. The buildings are a mix of brand-new housing developments catty-cornered with historical, brick beauties. The rain has stopped, but it's still gray. It's obvious there are a lot of out-of-towners, and we students are just as confused as everyone else. But we make it to the convention center and prepare to listen to Gloria Steinem (feminist and activist), Marian Wright Edelman (child poverty justice activist), and Michel Martin (NPR journalist).
3 p.m. The conversation between the speakers covers so many different topics, it's hard to keep up. Martin asks how the two activists deal with people who may disagree with their tactics or beliefs. Wright Edelman gives her a calm face and says, quite simply, "Oh, I don't bother with those people." The audience marvels at her bravery. Martin then asks about the two women's "theory of everything:" How do they approach the world? Their work? Steinem responds that she keeps hope, because "Hope is a form of planning."
5 p.m. It's now sunny and warm outside, so we take a short walk to find food and other wonders. I stumble upon the bus stop where Rosa Parks refused to give up her seat. I read a plaque about the first electric streetcar system in Montgomery. I read another plaque about how slaves were sold and kept in stocks in the area. I think about how I am stepping into history, wading through the knee-high water of it.
7 p.m. For the opening ceremony, we all jam into an auditorium, where Stevenson gives a speech about the importance of this summit and the opening of the museum and memorial. Patti Labelle performs and we all sway in our seats to the beat of togetherness and joy.
Really Late After a longer than expected dinner, we shuttle back to the hotel and fall asleep like it's our jobs.
Friday, April 27
11 a.m. The first thing on my official agenda is to see Al Gore give a talk about environmental justice. (I watched "An Inconvenient Truth" when I was in middle school and have been forever in awe of the former vice president.) Sen. Cory Booker is in the crowd, administering hugs. I'm in the balcony next to a sweet 8-year-old girl who is prepared with a notebook and pen, like me. Someone introduces Gore as the "former president by popular election," and Gore reminds us that environmental degradation hits communities of color, and specifically Black communities, the hardest. He is ashamed at the environmental racism enacted upon those in Puerto Rico in the aftermath of Hurricane Maria. But he also says that clean, renewable energy is getting cheaper: there is hope. I exit the auditorium, into the sunshine and across the street to the sweet smell of food trucks.
2 p.m. I attend a talk on reforming criminal justice in America and listen to Anthony Ray Hinton, who was sentenced to life in prison without parole for a crime he did not commit. He tells his story and we sit in shock and anger. Steve Bright, a lawyer and educator, begins with this salient point: "The criminal justice system was not affected by the Civil Rights movement." I have the quote starred in my notebook. I think about all the people withering away in cells for no good reason.
4 p.m. My friend Megan and I head to the memorial, where we read the names of those lynched and walk amongst the eerie iron markers that list them. There are sculptures scattered around the grounds, life-size shackled bodies to remind you of slavery, and tall, proud women cast in bronze, the bus boycotters of the 1950s. We stumble upon a marker from Orange County, Florida, where scores of "Unknowns" are listed for two days in 1920. Two women come up to us and explain that a race riot erupted after two Black men tried to vote. The white inhabitants of the town ran out every Black person in sight and lynched all others. No Black people returned to the town until the 1980s. We stand in stunned silence before I can eek out, "Thank you for sharing."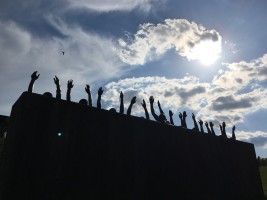 Raise Up (2016) by Hank Willis Thomas (b. 1976), displayed on the grounds of the Memorial for Peace and Justice.
7 p.m. At the Legacy Museum, I look at a wall displaying racist signs: WHITES ONLY, NO NEGROES. There is an interactive booth where you can select a state, and then a county, to view lynchings and the stories behind them. Text covers the walls and even spills across the floor, telling the history of African American treatment in the United States. There is a prison visitation section, where you lift up a phone and look someone in the eye through a pre-recorded clip, and they tell you the inhumane experiences of prison life. There are jars of dirt from lynching sites. I notice the red clay of Georgia and think of home.
10 p.m. At the Concert for Peace and Justice, the special, unannounced guest is Stevie Wonder. Everyone in the audience whispers in confusion and excitement: "Stevie?" "Mr. Wonder is here!" He begins by asking us to atone for the sins of this past year of injustice. He then plays "Higher Ground," and I am somehow sucked into a group of dancing adults on the lawn.
Midnight I lie in bed and fall asleep with the surety of someone who has spent the day doing what they were meant to do.
Saturday, April 28
1 p.m. We spend the day driving and I write in my journal, thinking about my time at the Memorial: "Here I was, with a community of mourners, all turning to acknowledge the pain of the past together. And it felt like the future, learning together."