Ups and Downs
Sorry guys, this post was supposed to be about the production of Romeo and Juliet that I was putting up in Peirce (our dining hall) this weekend. Unfortunately, on Monday one of our main actors had to drop out due to personal reasons. Honestly? I was crushed. I had been dreaming of this production for years, had spent a LOT of time and effort into making it work and so had around fifteen other people. And for all that work to be for nothing? That hit hard. Obviously I understand that you can't make someone do something they don't want to do and she wouldn't have pulled the plug if she hadn't really thought about it, but I was still disappointed. And at a small school like Kenyon, everybody knows when something doesn't go well.
However, what I learned was that people are overwhelmingly supportive. We really do band together on this hill.
In other news! Happy Halloween! Speaking of Peirce, one of my favorite things about Kenyon is how Peirce goes all out for fun occasions. There were creepy screams coming from the speakers in the dining rooms, pumpkins and spiders in the servery, and candy everywhere! My favorite station was obviously dessert, with a "dip your own carmel apple" station complete with eyeballs floating in the caramel! The AVI workers were in costume and someone's son was walking around "reverse trick-or-treating" and offering us candy.
Sometimes it's easy to forget that we don't live in a magical fairy world on top of a hill, but we definitely have a lot of fun.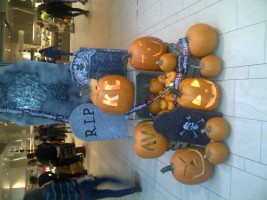 Happy Halloween from Peirce!