Where in the World is Jodi Ann? #2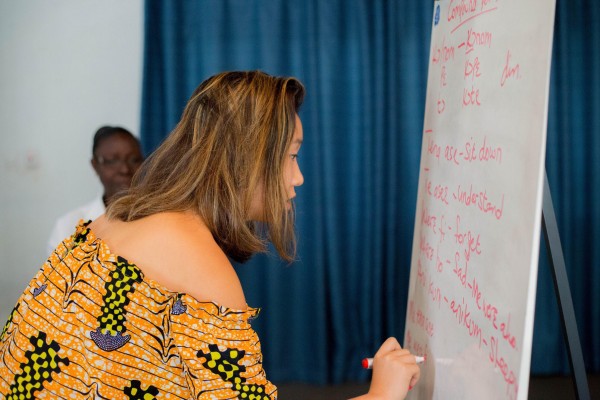 It's hard to believe I've been in Ghana for a month already. As things begin to settle into a routine, I thought I'd take you through a day in the life of my abroad program.
My School of International Training (SIT) program focuses on experiential learning. Aside from lectures that take place in the classroom, we attend many field trips to startup companies, public lectures, hospitals and even art galleries. Let's see what's on the schedule for today:
7:30 a.m. Get up, check in with the world: The continental U.S. is still sound sleep, and my mom left me some voice messages about the after-dinner walk she went on and the amazing new deal she got at the local grocery store.
8 a.m. Cook breakfast, usually for two: my incredibly talented host dad, Paul, who is also our program photographer (recently featured on Humans of New York!), and myself. Host mom has usually gone to work by this time, so Paul and I will enjoy a hearty little breakfast: bread, eggs and coffee is usually the way to go.
9 a.m. Get ready to meet at our program site: Luckily, the program site is not too far away from the house. Some days we take a tro tro, which is a local mode of transportation — a 20-seater van that drives a set route throughout the day. Anyone can get on at pretty much any point along the road. There are always two people working on the tro tro, the driver and the "mate," who tells the driver when and where to stop and go. On days when we're short on time, we will catch a good old Uber.
9:30 a.m. Gather at the program site: It's always fun to see your friends after a long weekend and catch up. Our academic director will lead a briefing to reflect on our weekends and the cool adventures we've been on.
10 a.m. Field trip time! Today, we are visiting a startup company called mPedigree to learn about the power of social entrepreneurship and the company's work on solving the problem of pharmaceutical counterfeiting in West Africa and beyond.
10:30 a.m. Arrive at mPedigree, lecture with founder and global strategy director Selorm Branttie: We were introduced to the motivation behind Selorm's innovation. Hundreds of people in West Africa have lost their lives due to counterfeit malaria drugs, family planning strategies have not been effective because of counterfeit contraceptive medicine, legitimate companies have shut down due to the dominance of counterfeiters and governments have lost revenue due to missing tax income from counterfeiters' ill-gotten wealth. By certifying each pack of medicine with a unique number that one can text to confirm its validity, mPedigree has been able to provide one of Ghana's greatest technological solutions to an on-going social and economic debacle.
Noon Lunch at a local restaurant with entire program staff and students: What's a field trip without a group lunch in town? I enjoyed a delicious bowl of groundnut soup with rice balls and goat meat.
2 p.m. Language lecture! An important part of the program curriculum, as well as the overarching theme of experiential learning, is language! Each day during this month, we have a language lecture on one of the many local languages of Ghana, called Asante Twi. Today, we learned communications in the market, which includes product names, asking for directions and prices, and bargaining.
3 p.m. End of day: Free time. My friends and I decided to go to the Accra Mall and enjoy a movie at the theater, followed by a taste of home: Burger King.
6 p.m. Return home: As I entered the doorway, the delicious smell of host mom's cooking filled the entire house. I couldn't resist, so I indulged in another bowl of delicious goat light soup (which is made out of a tomato, onion and pepper base with fish and goat meat).
7:30 p.m. Daily reflection and journaling: As part of our daily task, we journal and write a short reflection on our lectures or anything that we encountered today.
8-10:30 p.m. Time with host family: Prepare reading and lecture for tomorrow. Watch a movie, then check in with my parents and friends back in the States who are now seizing their day.
11 p.m. Goodnight Accra, see you tomorrow! Thanks for yet another amazing day.