Winter Wonderland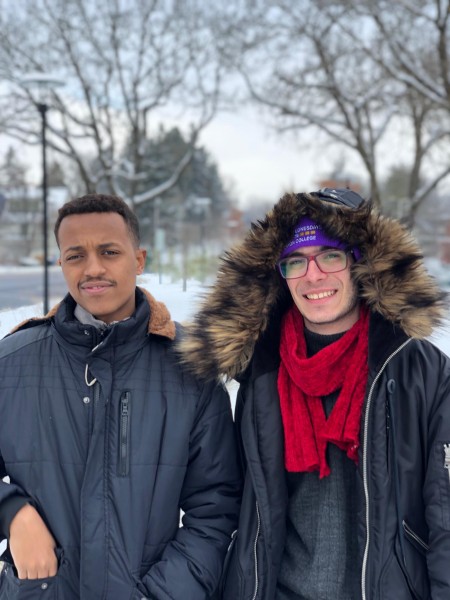 Midnight. A late-night study session in Ascension. It is still November, and although it has cooled down, it is warm enough to walk around in a hoodie without getting frostbite. As we were walking back to North Campus, my friend was impressed as the first flurries fell from the sky. He, just like me a few years ago, is from a tropical country in Latin America and had never seen snow before.
His phone came out and he began to take pictures. It was magical. I was seeing his joy as the snowflakes fell onto his clothes and the ground. A few days later, all campus was covered in snow and the sun shone above us. Snowball fights and snowmen could be seen all over the Hill. Students from California or tropical countries were experiencing this for the first time and the excitement spread as the colder days announced the beginning of winter. Middle Path had dressed in white.
Among astounding buildings and the beauty of rural Ohio, many discovered a new season that made them enjoy hot cocoa and the warmth of a hug in a different way. Here are some stories of the first snow for many.
---
Dickson Baah Boahen '22, Ghana
"The first thing I did was take a video of the snow to show it to my family and friends back home. They could not believe it. 'It is beautiful,' they said. I wanted to come here to Kenyon and seeing snow made me stop for a few seconds and realize the minuteness of our existence and realize all the changes I have undergone since I got here. This place is truly magical. I look forward to seeing more snow, but I have learned I have to dress in layers so I can enjoy it. Walking with my friends I had a snowball fight. I got hit, but it was awesome. I come from a very warm place, but am not getting tired of the cold."
Fatuma Ibrahim '22, Ethiopia
"I touched the snow, took many pictures, and just started dancing with my friends. Seeing snow was one of the things on my bucket list and that I thought a lot about when I was a kid. While it fell I remembered all the Christmas movies I watched and how distant that seemed for me."
Kirollos Mikhaeel '22, Egypt (photo above, with Bisrat Mulugeta '22)
"I got on the ground and started rolling. The small flakes falling from the sky were indeed something different. It was beautiful, and I couldn't hide the excitement. The weather is nice if you wear the right clothes, but I am very afraid of slipping."
---
After going home to Venezuela and spending time at the beach, I feel ready to get warm weather back, but I have enjoyed the seasonal changes in Gambier: the sweater weather of late September, the leaves on Middle Path in the fall, and the snow covering the grass until mid-February. I now look forward to the spring, seeing the leaves growing back on the trees, spending time on the Kokosing with my friends, and getting a bike to go around campus feeling the wind on my face.