Yes, I Love my Coffee
For many years I didn't drink coffee, disliking the bitter aftertaste of my family's signature drink. I wanted to like it. I wanted to want a cup of coffee. I wanted to appreciate the intricacies of the coffee, to explore its flavor, and enjoy the act of ordering a cup. I was often tempted to jump on the Starbucks bandwagon of sugars, creams, and chocolates in order to mask the taste of the bitter coffee, but I held out. And finally after years of slowly weaning myself off a spoonful of sugar I began to love coffee the way I always thought I should.
I love the earthy smell of roasting coffee. I love the perfect kissing sound of scalding milk. And I love the taste of a perfectly brewed cup of black coffee: simple, with intricate flavors and hidden aromas so often missed in the frequent cacophony of sugar and cream.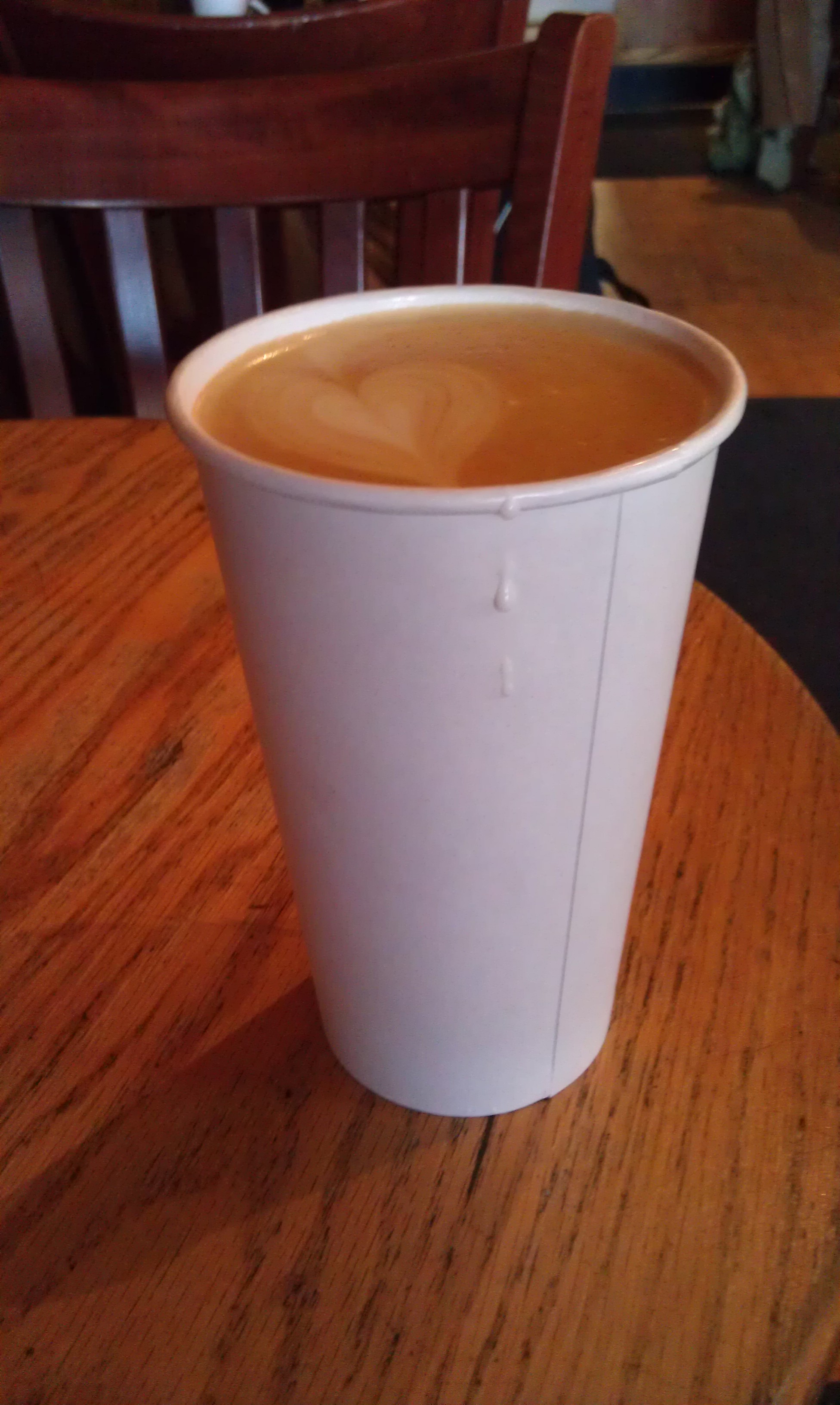 (A perfect latte at my family's Coffee Exchange in Providence, RI. I usually go for simple drip coffee but if the staff can make a good espresso drink I go for it; usually a cappuccino is a better gauge of a barista's skill however)
You see, coffee runs deep in my veins. It makes up the very essence of my being because it is intimately connected to my family and our very way of life. Coffee is what I grew up around. The sound of the cappuccino machine at home, the t-shirts my Dad brought back after trips for Coffee Kids or The Coffee Trust, and of course the sight of my Uncle Charlie roasting dim green coffee beans to Full City, French, or Espresso Roast.
Even so, I drink coffee infrequently. For me coffee is about the taste, not the energetic result. It is about the perfect proportion of coffee to water, the delicate timing of the shot of espresso, and importantly the careful steaming of the milk.
I'll admit it, I am a coffee snob.
Because of this so small, completely minute, and insignificant problem for nearly four years I've been searching for the best cup of coffee Knox County has to offer. And for nearly four years I had nothing to show for my struggles (well, besides the coffee I brewed in my room until I broke my ceramic Melitta filter while brewing in Peirce). That was until I finally went to Sips in Mount Vernon with head Track and Field coach Duane Gomez.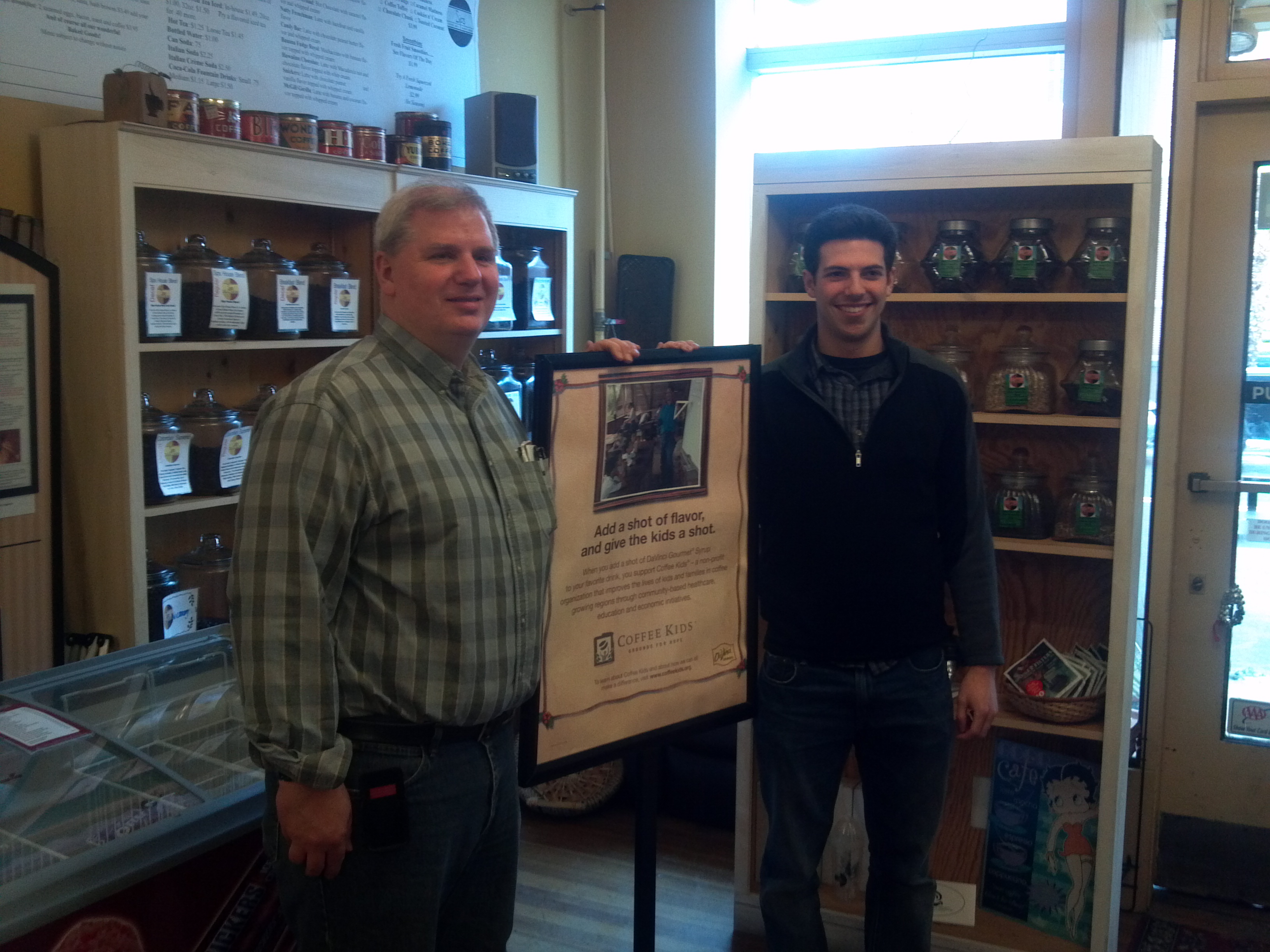 (Me and the owner of Sips posing with the Coffee Kids sign after he found out my Dad founded the organization. Photo courtesy of Coach Gomez)
I'd passed Sips for years, always wondering how it was but fully expecting yet another disappointing cup of something that tasted more like brown-water than Arabica extravagance. Luckily, when I met Coach Gomez at Sips last Monday the quaint café provided me with an incredible surprise:
Three great cups of coffee!
Brewed with almost the correct amount of water, the coffee was smooth and tasty. The Guatemalan was the best. Roasted in what was probably a medium (Full City) roast, the flavors were exemplary. Full-bodied, sweet, and slightly fruity, it tasted how coffee is supposed to taste.
It may have taken nearly my entire Kenyon career to discover this cup of coffee, but at least now I know that if I really need a cup Sips is right around the corner.
Adios,
Jake