24 Hours to Curtain!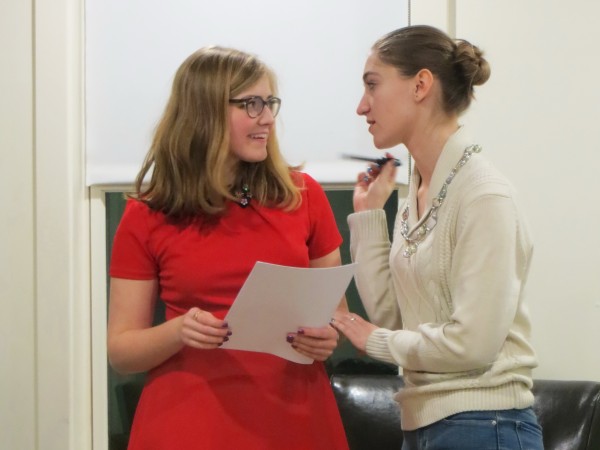 A few weekends ago I participated in a relatively new Kenyon tradition that seems destined to become a classic: Brave Potato Productions' second-annual 24-Hour Plays Festival.
It's actually exactly what it sounds like. Students write, rehearse and perform a series of one-act plays in just 24 hours. Sound crazy and chaotic? Well, it is. But confronted with a firm deadline in the form of a live audience showing up at 8 p.m., it's amazing what a group of people can accomplish in one day. And have a blast doing it!
This tradition got started in New York City in 1995, and has since become a popular event at many high schools and colleges as well as at professional theaters, often serving as a fun bonding activity early in the semester. As the program for the event explains, last fall the student board of Brave Potato Productions, a few of whom had participated in similar events at their high schools, brought the tradition to Kenyon for the first time "as far as we know."
This year's festival featured three short (5-10 minute) plays, each staged in a student apartment, tied together by a final scene at Weaver Cottage that included all the actors. The comedic one acts, with premises ranging from a wacky first date to two friends fighting over the affection of Siri, were each sprinkled with references to a birthday party that audiences got to witness at the conclusion of the show.
Students participating in the festival have the option of writing, directing or acting. This was my second year directing one of the plays, and each time has proved to be a unique adventure. Last year one of my actors had a schedule conflict in the morning, so the biggest challenging was getting everyone caught up and having to wait until later in the day to finalize who would be playing each role, which in turn influences everything else about the staging. This year my assigned script provided me a new but exciting challenge, as the piece largely depended on rapid-fire delivery and comic timing, a style to which I'm relatively new as I have mostly directed more dramatic works. This type of comedy also requires the actors to be rock solid on their lines — a tall order when they only have a few hours to learn them. And in order to bring out the humor fully, we rearranged many of the sections of dialogue at the start of rehearsal! We must have spent an hour or so doing little else but drilling the most lightning-speed 20-second chunk on repeat, but our work paid off. At the end of the day it was very rewarding to hear audiences laughing heartily throughout the piece!
Curious as to just how you prepare a show in 24 hours? Here's a snapshot of my day at this year's festival:
Friday
7:00 p.m. – All participants meet for introductions and information.
8:00 p.m. – Writers team up and start writing. Everyone else goes home to get some rest. We're going to need it!
Saturday
12:00 a.m. – Writers finish their scripts (theoretically). Midnight is the goal, at any rate.
8:30 a.m. – Directors meet up at Wiggin Street Coffee to receive their assigned scripts. The first look at the scene you will be presenting to an audience by the end of the day!
9:00 a.m. – Directors head to Weaver Cottage, where part of the performance will take place, to meet their assigned actors.
9:20 a.m. – Everyone treks over to the North Campus Apartments (NCAs). Several residents have generously offered up their living rooms for performance spaces, and one will be available for rehearsal all day.
9:30 a.m. – After a quick NCA tour (also an opportunity to scope out cool upperclass housing), my group is up first to rehearse in the space. My two actors read through our scene aloud for the first time (below).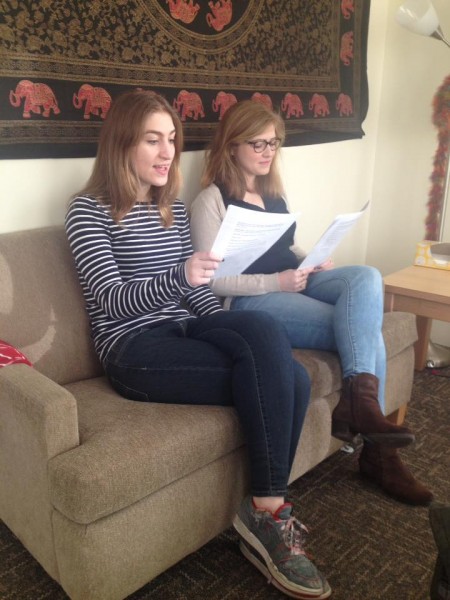 10:00 a.m. – Well, that's it for tablework. We start blocking, or staging, our scene.
11:00 a.m. – Aaand our time in the space is up! We find an empty spot in the nearby Craft Center to continue rehearsing.
12:00 p.m. – Lunch break! (But eating takes a back seat to gathering props and printing out updated scripts.)
1:00 p.m. – And we're back. Time to drill line and blocking memorization. This is where I may have the easier job than my actors…
4:00 p.m. – Early dinner break! (Figuring out costumes.)
5:30 p.m. – The whole gang reconvenes in Weaver. Time to learn the final scene, which will bring together the casts of all three one-acts for some final hilarity (below).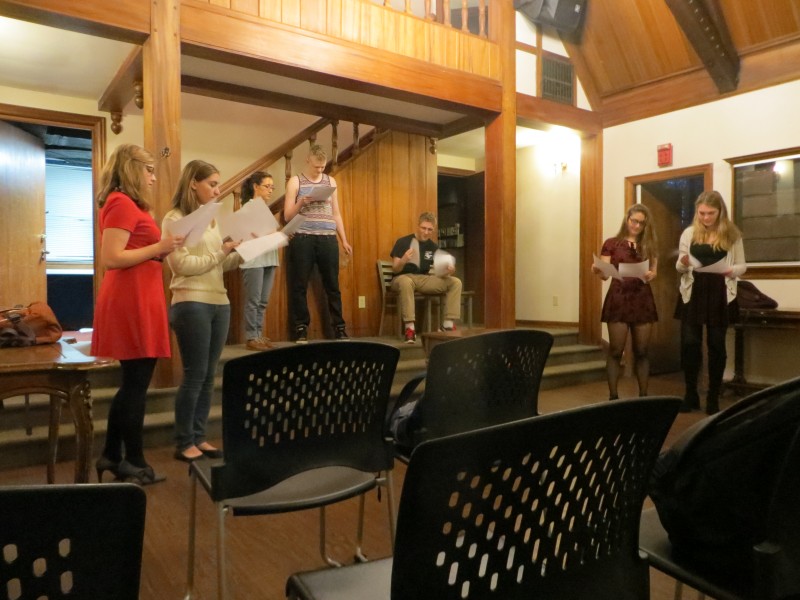 7:00 p.m. – Final rehearsal in the NCAs: our only chance to see what the other two groups have been working on all day!
8:00 p.m. – Showtime!! Exactly 24 hours from when the writers sat down to draft these scenes.