A Day in the Life of a Student at Saint Petersburg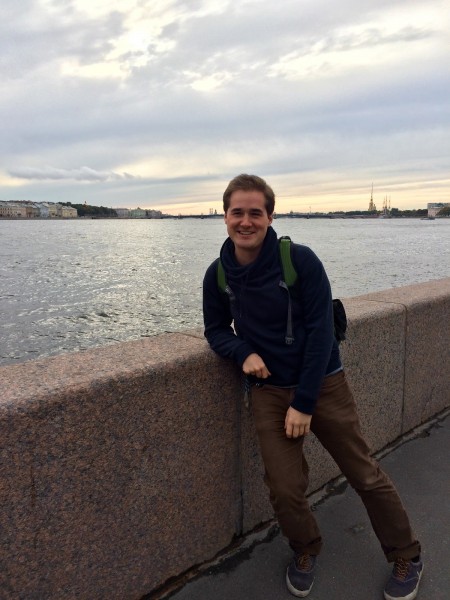 Studying abroad is a time full of changes. One of the most immediate changes is your day-to-day life away from the Hill. My daily schedule here is one that definitely is a bit more high-stress than it would be in Gambier.
My day starts at 8:30 a.m. I awake, usually to the sight of one of my host mom's four cats walking all over me.
After shooing the cat(s) out of my room I grab my breakfast. One of the things I miss the most about Kenyon is hashbrown triangles. Breakfast here isn't as savory as it is in the States. Pretty much every breakfast has three things: Kasha, чёрный хлеб (black bread) and coffee. After a quick shower, I'm off to meet my neighbor and traveling companion, Jean Paul. At 9:10 a.m. we depart on the metro toward our university. I am taking classes at Saint Petersburg State University (СПбГУ), one of the most prestigious and oldest universities in Russia.
(THIS IS MY NEW CAMPUS!)
Classes start every morning promptly at 10. Being late is not only incredibly disrespectful to the professors here, but it is hard to be subtle sneaking in when your class only has four other students.
I am taking five classes here — three language classes (grammar, phonetics and conversation) and two electives ("Russian Civilization" and "USA and Russia: Politics Since 1990"). These classes are all in Russian, including the electives. My Russian courses at Kenyon didn't really give me the lexicon to be talking about the effect of social media on the Russian presidential elections, but oddly enough I am getting better every single day. Classes here all last 90 minutes, which can be tough on the days when I have three classes in a row. The courses are small. Most people in this program, I have found, are coming from smaller liberal arts colleges.
After all my courses are done I head back home. One of the nicest things about Russian university is that they stress in-class work more, so there is a serious lack of homework. I have accepted this aspect of Russian life with open arms. At home I sit with my host family and talk about various aspects of Russian life, hang out at my neighbor Jean Paul's apartment or sometimes just walk around the streets of St. Petersburg.
The Fontanka River and Church of the Holy Trinity, which are located right outside my house
St. Petersburg is definitely a change of pace. After spending my summer in Gambier, being in a city with more than five million people definitely is a bit of a shock. The lack of smiles on the street also throws me off, and I need to remind myself every day that the streets of St. Petersburg are not Middle Path. But five weeks into this program and I love life here. Granted it is cold, and the first snow this Friday is scaring me, but I would not trade this incredible opportunity for anything.