Bouncing Around Amsterdam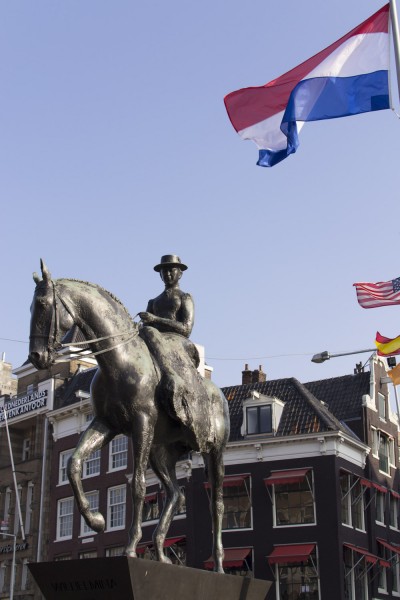 I recently visited Amsterdam, an amazing city. The canals, the architecture, the people — everything about it was new and exciting. The city, as I was told on a canal tour, is designed similar to an onion. At the center, you have City Center (duh). In order to protect the center of the city, the Amsterdammers built a canal around it. As the city grew, they built new canals to protect each new row of buildings, thus creating a layered design — similar to that of an onion, or an ogre. There are also an equal number of bikes to residents in Amsterdam. Therefore you hardly ever see cars, but instead, have to watch out for bikes. Once or twice I was almost hit by bicyclists — they fly by.
Bikes also make great material to photograph, especially paired with canals, arched bridges and canal houses. At one point late into my five-day trip, I had to make myself stop taking pictures of the canals. Although they're gorgeous, there was so much else going on that I wanted to notice. For instance, all of the buildings are probably only about 4-5 stories tall at most. They are tilted forward, which gives them a towering feeling, and they have hooks at the top. I was told that the reason the buildings lean forward is so when hoisting cargo up to the top floor, front window, the goods do not rub against the front of the house.
For the sake of exploration, sightseeing and a little curiosity, I did venture into the Red Light District. It is everything one could possibly imagine and more. And I will leave it at that — to be imagined and not described.
If you're planning a trip to Amsterdam, I would suggest staying in a hostel. I stayed in three different hostels — one in uptown, one on the outskirts of the Red Light District, and one deep inside Red Light. In each instance, I felt safe and at home. It's also nice to meet people. However, I was lucky enough to be visiting the city with about 12 people I knew from my time in London, so finding and meeting people wasn't something I felt I needed to do. The Van Gogh Museum was a great experience even though the wait was pretty long. I really enjoyed the Heineken Experience (a museum) and I was able to get a free glass and bottle opener! Visit some coffeeshops if that is your cup of tea. Again, for the sake of research and curiosity, I visited one or two coffeeshops and had a very pleasant experience. Finally, a canal tour is a must. Seeing the city from the canals is special, and you get to learn a good amount of history about the city.
I will definitely be back to Amsterdam. What a lovely city.