Djembes with Dizu
On the first day of "African Instruments 101," my instructor told us that at some point during this semester we were all invited over to his house to build our own djembes. Throughout the semester, my emotions were toyed with as I alternated among being optimistic to wary to hopeful to despairing about my prospects of this becoming a reality.
Logistics are difficult when your professor is an international music star, as was my case. Dizu Plaatjies is a wonderful man. He is incredibly kind and an extremely talented musician. He also is very seldom in Cape Town. Over the course of the semester he has played in Germany, Thailand and the United States. I grew increasingly pessimistic about the likelihood I would build this drum.
However, this past Saturday, almost by accident, I found myself at Dizu's house in Langa setting aside all the pieces for my djembe: goat hide, wood, rope, cloth and metal. For those who don't know, Langa is the oldest township in Cape Town. It was originally designed as a central labor camp in the 1950s during apartheid, and Dizu grew up there and still lives there to this day. A djembe is actually a West African drum, but is perhaps the most proliferated African instrument.
I never doubted that building the drum would be hard, but I was surprised at how difficult the process actually was. Tanning and cutting the hides went quickly, as did clothing and fitting the rings in place, but for more than seven hours, I sat outside stringing the drum together and tightening the head. Torqueing the drum tore up my hands and left my back sore for days, but at the end of it, I had a beautiful new djembe: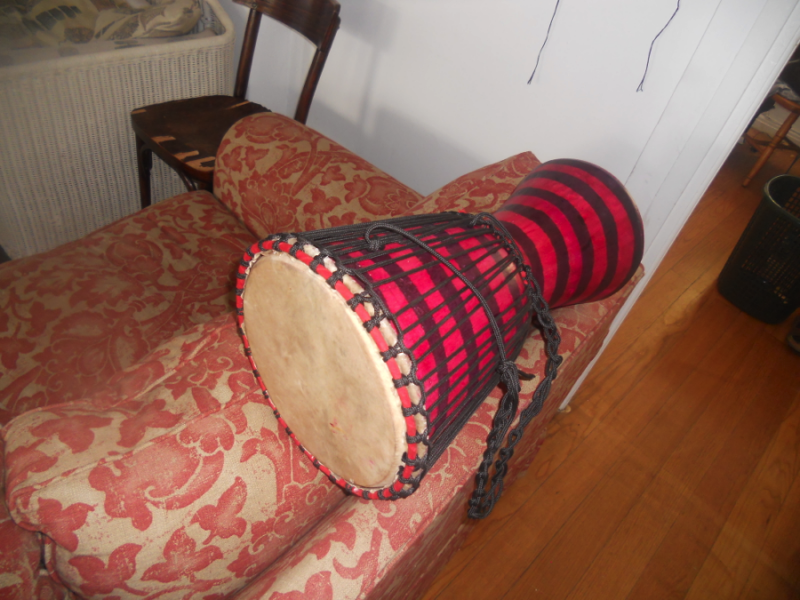 That night we spent hours jamming outside with some players from Dizu's band, Ibuyambo. While there have been a number of absolutely incredible days here in South Africa, this one has to have been my absolute favorite.