"Happy Feet" Half Marathon Training Club!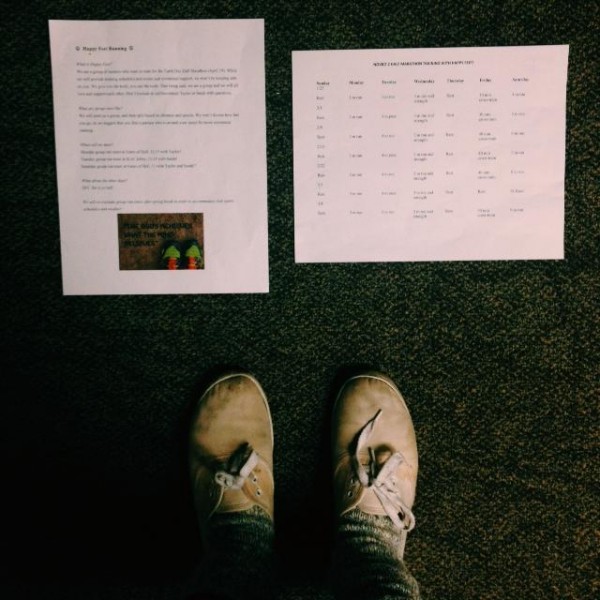 I'm hesitant to call myself a runner. I only started a few summers ago, and it's something that I would do really intensely for a few months, and then for a few kind of forget about. This school year, however, I've found myself on a pretty steady schedule. I go to the KAC every other day, whether it's for a class or to use the treadmills, and it helps me unwind and feel productive. But I never planned on doing anything more serious with it until I got an email about Happy Feet, a new half-marathon training club.
Started by Sarah Miller '15 and Taylor Scult '15, Happy Feet is a group of runners training for the Earth Day Half Marathon on April 19. We had our first meeting last week, and they laid down the basics for how the training will work: In addition to the group runs every Monday, Tuesday and Saturday, we all have training schedules to follow based on our starting abilities. I'm "Novice 2," meaning I start the week running three miles and end the week with additional miles being added every Sunday. By March, I'll have made it eight miles, and by April, the full half marathon.
For someone who usually runs a solid three miles at the KAC, I can't imagine running four times that. I'm sweating all over the machine by mile two, so to think that I'd ever reach the finish line of a half marathon and still be standing is a miracle.
It's not all run run run. They've thrown in some strength and cross-training, as well as rest days, so we don't end up hurting ourselves. Taylor also promises to send us words of encouragement, as well as running-inspired movies and documentaries to keep us motivated. And that's why I'm excited. It's not just a training schedule, it's a small little community within a community. We've only met as a group once, but I'm hopeful that this experience will take the act of running away from being a harsh and disciplinary thing that I inflict upon myself after eating too many mac n' cheese wedges to something positive and empowering.
I'm still nervous to actually sign up for the marathon, because what if I start the training (which begins today!) and find I can't handle it? Signing up means it's real and happening and that I have to start washing my gym clothes because they really smell and I don't want to inflict that upon other humans. I might be joking a little.
Regardless of all the sweat, when I think of actually finishing the half marathon, something that, three years ago, I never would have considered something I'd do in life, it seems like real motivation to get me through this last stretch of winter. I'll see you tomorrow for my three-mile run, and hopefully in a few months at the finish line!