In the Recording Studio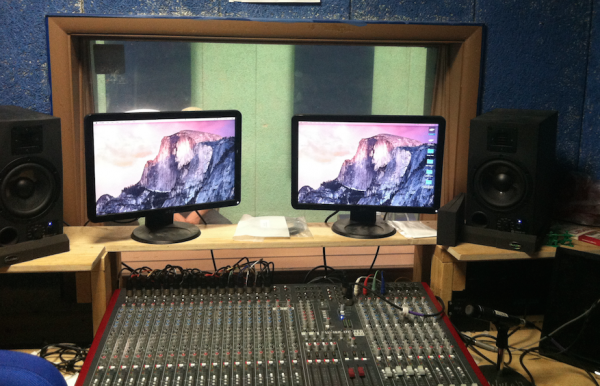 My first experience with the recording studio came in the beginning of my sophomore year. We had woken up early (10 a.m.) on a Saturday and made our way down into the basement of Farr Hall to the WKCO recording studio. None of us knew what we were doing. The results were predictably bad.
The next year my Park Strangers bandmates and I opted to record in Brandi Recital Hall instead. It's not your typical space for recording rock and roll, but we liked the boomy, live sound of it. In the end, we made a boomy, live-sounding (albeit, sloppy) record.
This year, we figured it was time to do it right. We headed down to WKCO on a Thursday afternoon and made the trek deep into the night. The studio is a short, rectangular room with seafoam walls that look like they're made of uncooked ramen. Blue soundpads cover sections of the walls like tiny mattresses. The floor is a mess of wires running of all different thicknesses. It's hot when we're all crammed inside, but it feels how creativity ought to.
Thanks to the generosity of the College, the studio is well-equipped with drums, amplifiers and a wide array of microphones. The incomparable Teddy Farkas '16 helms the studio, telling us where to set up the microphones and how to angle them. Eventually, we got the room all set and delved into a six-hour session.
Once the dust cleared, we had 10 songs worth of drum and bass tracks recorded and done. In the coming weeks we will lay on guitars, vocals and whatever else we decide we want. It's going to be a very exciting process and I can't wait to get back in the room next week.