Kenyon Quint(essentials): Shoes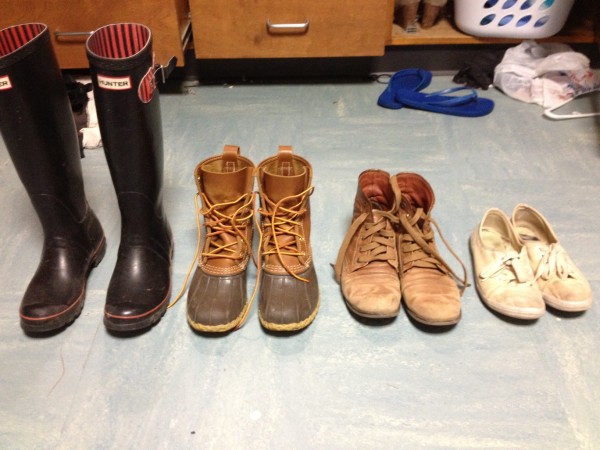 Since college-visiting-oh-my-god-which-one-should-I-go-to-please-somebody-help season is almost over, I thought I'd start focusing on those lucky students who have already decided on Kenyon. When I made the decision to come here, there was a long period of excitement followed by a long period of panic. When you're packing for college as a first year, you have no idea of what things you will actually need (lots of storage) and what things you will never need ever (Harry Potter wands). For this first installment, I thought I'd focus on shoes.
Hunter Wellies: My dad got mine for me off of Ebay during the summer before I left. I wasn't sure how much I would use them, but it turns out they are one of my staples. Ohio likes its rain, so when you wake up to it pounding on your window, you can just slip on your wellies and you're good to go.
Bean Boots: I only got these shoes a few months ago and they are one of my favorite pairs. They're great for that time of year when Middle Path turns into a tunnel of mud.
Steve Madden Ankle Boots (Or any variation of): This is my most worn pair of shoes. They don't have to be this specific pair. You can't go wrong with any sturdy ankle boot that is good for walking and goes with everything.
Shoes for frolicking: I've only just pulled these out again because the weather is finally warming up. These are great for weekends when the sun is out and you just want to pull something on and go for a skip. As for me, I'm going to a rugby game. Have a great weekend!