On Studying Education at Mount Vernon Middle School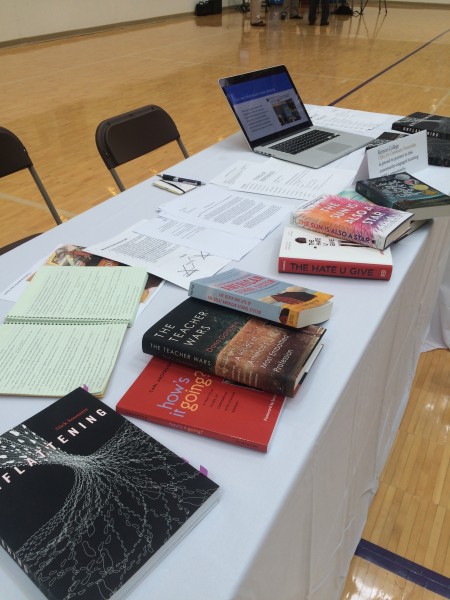 It's 8:30 on a Monday morning, and I'm sitting in the hallway of Mount Vernon Middle School surrounded by several seventh graders. We're reading a poem by Len Roberts about graffiti spray-painted on an overpass that reads "I Can't Forget You." Roberts imagines what was going on in the head of the graffiti artist, pictures him late at night painting the words, imagines that his lover would drive past the message on her way home, describes the way in which the words would eventually wash away. It's a beautiful poem, and I'm excited to discuss it with the group. We read it aloud a few times, and when I ask what's happening in the poem, one of the students says, "I think he's jumping off a diving board." A diving board? I find myself suddenly worried – how am I ever going to be able to work through the complexities of this poem with students who think it's about a guy jumping into a swimming pool? What do you do when you're faced with a statement that absolutely stumps you? Is this what being a teacher is like?
During my time at Kenyon, I've come to realize that education is something I'm passionate about; last year, I shared this post about what it's like to be at Kenyon while considering a career in education. In the year that's passed since writing that, I've had an exciting and eye-opening internship at the Children's Creativity Museum in San Francisco (where I'll be returning this summer), spent time in a public high school English classroom during my semester abroad in Stockholm, and, most recently, undertaken an independent study project within Kenyon's English department called "Mentoring Young Writers and Readers."
Students at Kenyon frequently fit independent study projects into their schedules. Working with a faculty advisor, those undertaking independent study design an in-depth examination of a topic that isn't offered as a Kenyon class. This allows students to further explore specific interests while figuring out how to articulate the ways in which their topic of study can inform their chosen major(s) and their Kenyon education as a whole.
Last August, Andy Accetola, a seventh-grade English Language Arts teacher at Mount Vernon Middle School, got in contact with Kenyon's Office for Community Partnerships to inquire about a way to get Kenyon students involved in his classroom. He eventually ended up talking with Professor of English Sarah Heidt and expressed his interest in having Kenyon students provide one-on-one writing help to his seventh graders. Professor Heidt was excited about this possibility and suggested it as an idea for an independent study project to me, Mollie Greenberg '19, and Tyler Raso '19 – two other Kenyon students who have experience with and a potential career interest in education.
Over the course of the semester, Professor Heidt, Mollie, Tyler, and I have been going to Mr. Accetola's class on Monday mornings. We started off the semester by observing Mr. Accetola's class and his teaching style, taking lots of notes on what we saw. As the semester has progressed, we've gotten more involved in the classroom – discussing poetry with the students, helping them learn about compound sentences and semicolons, and holding individual writing conferences to help them improve their essays and short stories. The four of us have also met on campus once a week to discuss what we've seen happening in the classroom as well as the reflective writing we've been doing and the books we've been reading (books about the history of U.S. public education, practical strategies for writing conferences, and teachers' memoirs).
Earlier this month, we were given the opportunity to present what we've been doing at Kenyon's second annual Celebration of High Impact Practices (CHIPS), a large event held at the Kenyon Athletic Center that invites the Kenyon community to learn about students' internships, research projects and independent studies. We spent a few hours telling people about our project and exhibiting the books we've been reading, selections of the seventh graders' writing, our notes and some worksheets from the class (see photo above). Preparing to talk about our independent study gave us all some time to reflect on what we've gotten out of this experience and how it's supported our liberal arts education at Kenyon. Because this was very much a pilot project, we were also able to talk about where we see this program going in the future and get feedback from our table's visitors regarding how they thought this project could fit into Kenyon's curriculum.
This project has been such a formative component of my Kenyon education. It's been a way to better integrate myself with the Mount Vernon community, it's allowed me to pursue education in a more academic setting than I've previously been able to, and it's given me a chance to think and talk about how the study of education is relevant here at Kenyon and, more specifically, relevant for me as an English and psychology major.
"I think he's jumping off a diving board." I can feel myself panicking, so I pause for a moment to collect my thoughts and say, "What part of the poem makes you think so?" "There's a line about 'free-fall of thirty or more feet,'" answers the student, quoting from the poem. "What does everyone else think?" I ask. "I don't know what the stuff about a lover would have to do with the diving board," says someone else. I breathe a sigh of relief. "So what do you think it's about?" I ask. It takes them a little while and a few leading questions from me, but eventually, we get there together, and they finally understand what's going on, their faces lighting up as they recognize the creativity in the lines. Maybe this, I think, is what being a teacher is like – knowing that you helped someone get somewhere, or make a connection, or think about something in a new way. And whether I can do that in a public school classroom, in a children's museum, or somewhere else entirely, I'm lucky to get to explore what I want to do with my future here at Kenyon and in Knox County.