On First Days and Mysterious Emergency Alarms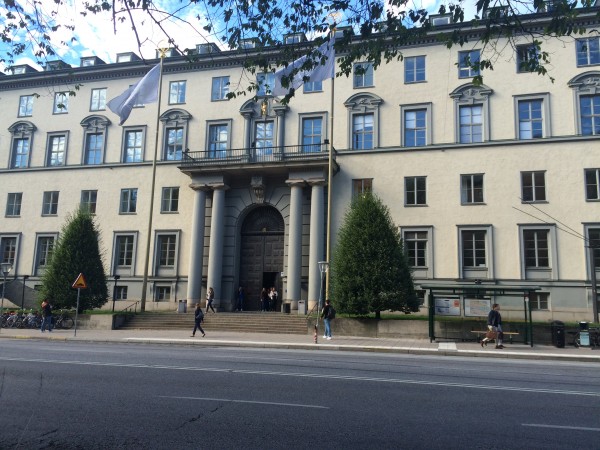 The first class I attended as a Kenyon student was Psychology 100. I remember the day of the week (Thursday), the time class started (9:40 a.m.) and the room in which it was held (Sam Mather 201). Yes, this information is tattooed in my memory, because I did not want to be late for my first-ever college class. I budgeted extra time to walk across campus from my dorm (a 10-minute walk at the most), eat breakfast at Peirce, and arrive early enough to get a good seat.
Yesterday morning was my first day of class as a Swedish Program student at the Stockholm School of Economics (SSE). Just as I did on my first day at Kenyon, I allowed myself ample time to get to class. But instead of a leisurely morning stroll across a quiet college campus, my morning commute involved half an hour on the tunnelbana (metro), wedged shoulder-to-shoulder with Swedes heading into the city for work.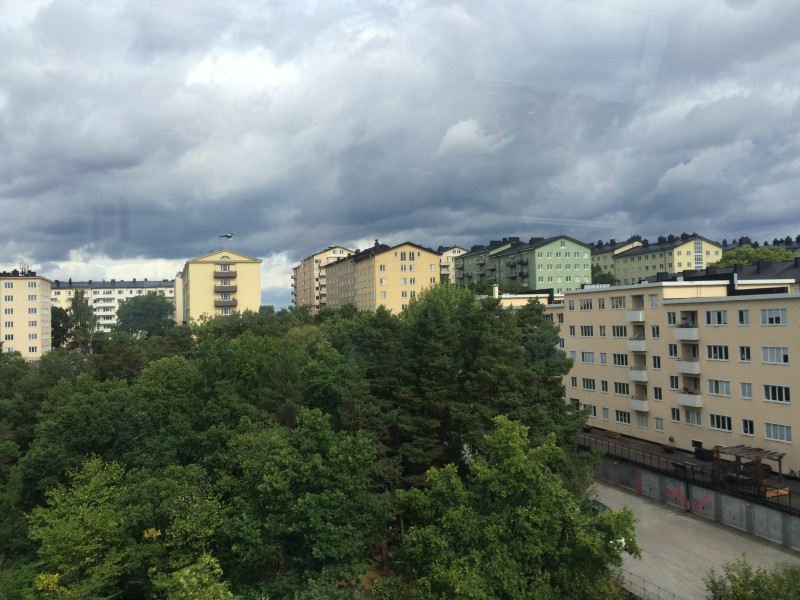 The view from the metro – beautiful, but obscured by hordes of commuters during rush hour.
Upon arriving at my metro stop, I made my way through the streets of downtown Stockholm to SSE. Of course, I couldn't just take the normal elevator to my classroom on the ninth floor, because that would be too simple. For some reason (don't ask me why – I'm not majoring in architecture), only certain elevators go to certain floors, so I had to find my way down to the basement in order to take the elevator up to the ninth floor.
I'd given myself an hour to accomplish this, so I arrived early to my first class – Introductory Swedish. Two years ago, I thought Kenyon's Intensive Intro Spanish class was going to be impossible; now, trying to figure out how to pronounce letters like å, ä and ö, I longed for some Spanish verbs to conjugate.
After stumbling over Swedish, I had several hours to spare before my next class. At Kenyon, I would have gone back to my dorm, dropped off my books, started on homework, responded to some emails and (depending on the intensity of the morning) maybe even enjoyed some down time cuddled up on my bed with a good book or an episode of Friends. Here, in a confusingly large building full of tall Swedish business students bustling to and from their classes, I had nowhere to retreat, and I suddenly felt suffocated by the chaos of being in a big city. Trying to regain some control, I decided to explore the library on the fifth floor.
The library was okay – it was picturesque, but there was nowhere particularly comfortable to sit – so I decided to leave. I approached the door through which I'd entered and automatically turned the handle. A piercing alarm shattered the studious silence, and a man rushed up to me, yelling in rapid Swedish. When it was clear I had no idea what he was saying, he switched to English, demanding I show him the schoolbooks I was carrying in my bag (I think he thought I'd set off the I'm-trying-to-steal-books-without-checking-them-out alarm). Fortunately, a soft-spoken librarian came over, glanced quickly at my books, and quietly informed me that I'd pulled the wrong handle. She explained that there are two handles on each door in the building; apparently the green handles activate the emergency alarm. Who knew? It's a wonder I hadn't accidentally pulled one earlier.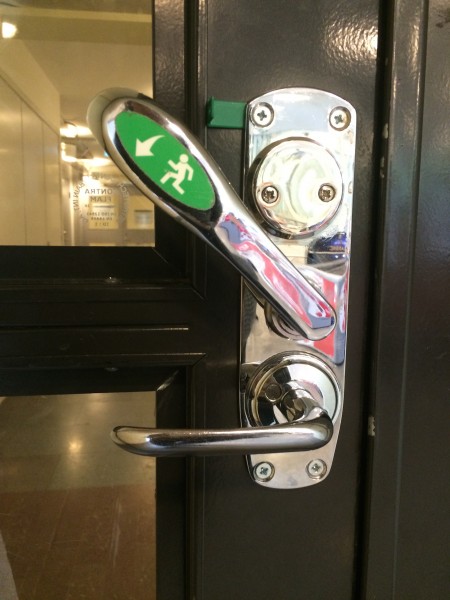 The infamous door handle – a little confusing to an American who generally thinks green means go.
By this point, I was mortified, so I withdrew outside for some fresh air and sat on a bench by a playground, as schoolchildren pushed each other on the swings. By the time I had to go inside for my other class, I'd developed a massive headache. The course – a creative writing class called Writing Sweden – was excellent, with only seven students and a thoughtful, engaging professor, but I had trouble focusing and ended up counting down the minutes until class was over.
Thankfully, the metro wasn't as crowded at 5 p.m. (or should I say 17:00?) as it had been that morning, so I managed to collapse into a seat and watch the city speed past on my way home. Stepping into my apartment was a relief, but the prospect of having to cook a proper meal was daunting after a day spent feeling lost and out of place. I suddenly found myself longing for the convenience and camaraderie of Peirce.
Don't get me wrong – I've loved much of the time I've spent in Sweden so far (admittedly only a little more than a week), but yesterday was long and exhausting. Everything here feels like so much more of a process than it does at Kenyon – it all takes a little longer and requires a bit more effort. But it's astonishing how much I'm learning – not only in class, but also from the trials and errors of life in a country that I don't entirely know how to navigate. Today, for example, I didn't get lost once. I now know never to pull a green door handle. I managed to find nearly everything I needed at the grocery store this afternoon. So although the process is a little difficult right now, I'm confident that it will ultimately be an enlightening and rewarding one.
Related:
On Making the Decision to Study Abroad, Katie Jimenez-Gray '18
Why I'm Not Studying Abroad, Wilson Captein '18
Orientation, Moving In and the Flu, Noah Williams '16