One Last Time: Reflections of the Student Council President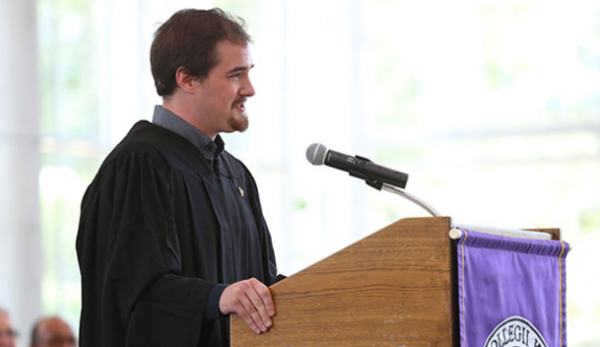 I have had the prestigious honor of serving as the president of Kenyon's Student Council this past year. As anyone who frequents my blog or has interacted with me knows, I love the musical "Hamilton." Inspired by the song "One Last Time," in which Alexander Hamilton helps George Washington write his farewell address to the nation, I wanted to take a moment prior to my graduation this Saturday to reflect on the past year.
After coming back from abroad, I felt the need to expand beyond the Greek community and engage with the entire student populace of Kenyon. I ran for president in a tight election against two other highly qualified and deserving candidates. When I learned that I had won, I was ecstatic. Every Kenyon student is drawn to this hill because of their love of Kenyon. People don't come to Gambier for the incredible nightlife, great shopping or exotic cuisine, although I will say the buffalo chicken sandwich at the Village Inn is a work of art. People come here because they truly love this school. The notification that I had won the election was one of my happiest moments here, because I was going to be able to show my love for this college by representing the entirety of the student body.
Now I wish I could lie and say everything during my tenure as president went perfectly; there were many bumps in the road, but what I, alongside the rest of the elected representatives, was able to accomplish is astounding. From the creation of an equity fund to help students afford meals during break times to a complete restructuring of the by-laws, my council has been a productive and positive force on the Hill. I feel that this year, the Student Council of Kenyon was able to aptly reflect the needs of the students of this incredible place.
Leading is not at all a cakewalk, and it took me a while to fully realize this. Unfortunately, it is impossible to make all 1,700 students happy all the time. We made decisions, passed motions, and adopted resolutions that upset some of my fellow classmates, but it was oftentimes the disagreement and points of view outside of my comfort zone that helped me make the best decisions. As I stated above, no matter where you stand on policies, nearly all Kenyon students are bound together by a sense of love for this college. I realize now that the occasional heated arguments over decisions were birthed at that commonality. Every student's differing opinions and views all spring from a desire to do what is best for Kenyon. I'm reminded of these words from the speech I gave to welcome the Class of 2020 at Opening Convocation (pictured above) this past August: "Make this place what you want it. This is your own journey that you define and create yourself. Things here can change if you are willing to fight for them."
I only have a few days left serving in such an honorable and sometimes challenging position. I look back to my incumbency and, in the words of Washington's farewell address, while "I am unconscious of intentional error, I am nevertheless too sensible of my defects not to think it probable that I may have committed many errors. … I shall also carry with me the hope that my country will never cease to view them with indulgence; and that, after 45 years of my life dedicated to its service with an upright zeal, the faults of incompetent abilities will be consigned to oblivion, as myself must soon be to the mansions of rest."
Although I was not leading a budding country and have not served for 45 years, I do hope that every mistake perceived by others is viewed the same way I now view other students' differing perspectives: from a place of love. It has been an honor and a pleasure to serve the students of such an remarkable institution. I hope that I will be able as an alumnus to continue to serve this place that has become my home. God willing, 41 years from now I will be able to equate my time spent serving Kenyon with what President Washington did for our country.