Pink Hats and Protests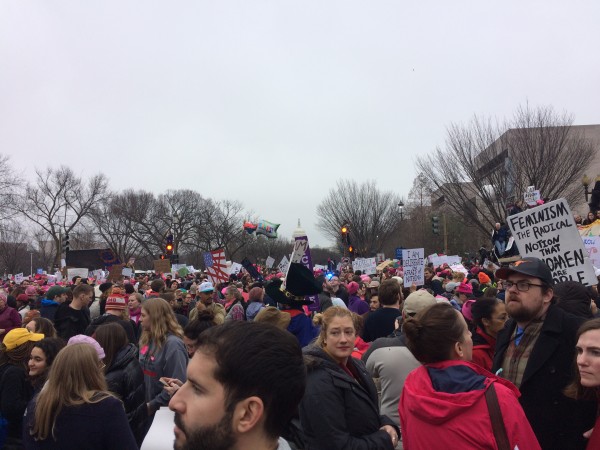 Last Friday afternoon at four, I grabbed a change of clothes and a few snacks and tumbled into my friend Linnea's Toyota Corolla to drive to Washington, D.C. Luckily enough, my friend Adam lives in the city, so the three of us hatched a plan to drive down on Friday, spend the night, and drive back to Kenyon after the Women's March on Washington. It was a last-minute decision for all of us. It's easy to use homework as an excuse not to do things, but in the end we decided that, sometimes, activism should be prioritized over academics, especially when it's for an issue we feel so strongly about.
The excitement didn't really hit me until the next morning, as we woke up early to head to the Metro. Decked out in pink hats (handmade by Adam's mom!) and carrying our sign, we went down the escalator to the subway and immediately were overwhelmed. Everything was pink, and everyone was smiling. The trains, predictably, were packed, so somewhere along the line I ended up sitting on a seat with Linnea on my lap, smothered by friendly moms with their daughters, friends with their friends.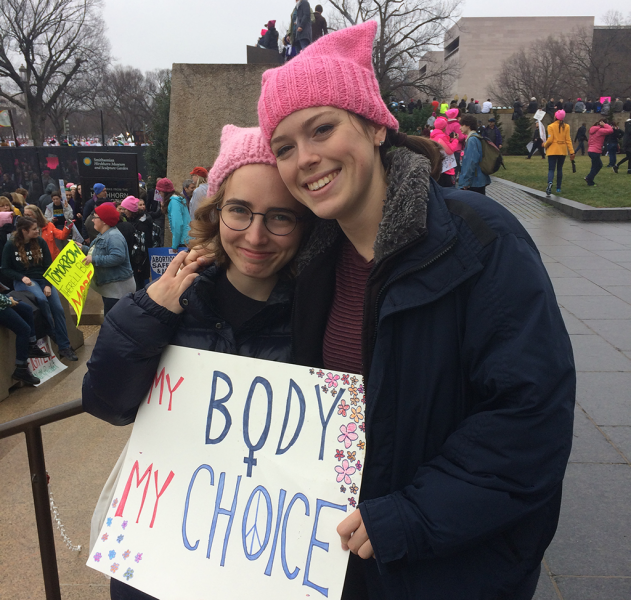 Linnea and I pose with our sign and our hats.
One thing that worried me when I was preparing to go to the march was whether or not it would be intersectional enough. So often, white women can be exclusionary or simply ignorant when it comes to their feminism, and it was my hope that this march would celebrate people of color, the LGBTQ community and those who are disabled and elevate their voices. And, for the most part, it did. At the march, I heard many Muslim women and women of color give speeches, and most of the protest signs I saw advocated for intersectionality. All women are not all the same, and the diversity and representation that I saw at the Women's March was heartening. I felt safe there, enmeshed in a huge sea of women (and men, and others) advocating for love and compassion in a time when that seems all too difficult.
My Kenyon community was there, and that was especially comforting, although the crowds were too big to meet up with all the people whom I wanted to see. My brother also attended the march, and my mother marched in Boston. I got the chance to be a part of something so much bigger than myself, and it made me reflect on the election in a way that I hadn't before. There are so many people who are scared about the next four years, but the turnout at the march helped me realize that there will always be people fighting for what they believe in, many of them at Kenyon. Of course, the march was just a starting point, and there is much work to do. But for now, I am calling my representatives most days and giving what I can, knowing that there are so many people doing the exact same thing, knowing that so many of us are working, in our small ways, toward a better future.
Related post: Katie Jimenez-Gray '18 shares her experience at the Women's March on Washington.