Playing Jazz in Peru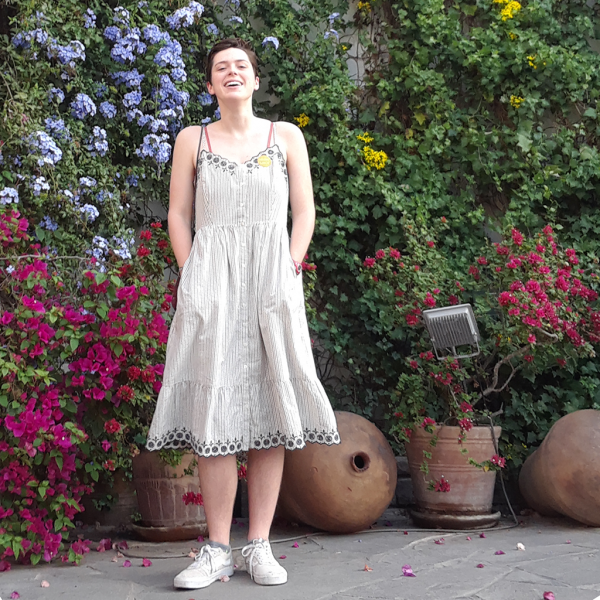 The Kenyon Jazz Ensemble had the opportunity to travel to Lima, Peru, for four days over the second week of spring break. Two years ago, we went to New Orleans, but this was the band's first international tour. Gabriel Alegria '93, a Kenyon alum and native of Peru, helped plan the tour and set up three gigs for us to play. Below is a travelogue detailing the experience.
Wednesday, March 14
11 a.m. I head to Storer Hall for our last rehearsal before our trip. We go over shaky passages and Professor Buehrer makes sure everyone has their passports. After eating some Papa John's for lunch, we pile into three vans and head towards the Cleveland airport.
7 p.m. We board our first flight of the day, to Dallas/Fort Worth airport.
10 p.m. After landing and hustling over to another terminal, we get on our redeye flight to Lima.
Thursday, March 15
2 a.m. I have yet to get any sleep on the redeye. I am displeased with this.
5:30 a.m. We land in Peru and head to customs, which we all get through without issue.
7 a.m. We arrive at our hotel in the Miraflores district of Lima. There's a central courtyard with plenty of flowers — Lima gets under an inch of rain per year, so lots of structures are open-air or sans ceilings.
7:30 a.m. We go out to our first Peruvian meal: breakfast at Mango Cafe. Most people order pork sandwiches, a recommended dish. I, being vegetarian, get the "American" option: fried eggs.
12:30 p.m. We head to Punto Azul, a local restaurant, for lunch, where we meet up with Gabriel Alegria, an Afro-Peruvian musician. We are immediately served Pisco Sours — Peru's delicious national cocktail. The main course is ceviche, a seafood dish (mine had mushrooms in it instead of fish). Also on the menu: octopus. For dessert, we are met with cake and pudding. I leave the restaurant struggling to imagine ever feeling hungry again.
2 p.m. We go on a street art tour of Lima's Barranco district. Many stores allow artists to paint on their storefronts, as the art often attracts more customers.
11 p.m. We head to our first concert venue, where we listen the Vanguardia Jazz band play a set. The music is amazing, but the lack of sleep from the night before is starting to catch up with me.
12:30 a.m. My combo goes on to play a small set, and then the full Kenyon big band takes the stage to perform. We're all tired, and it shows in our playing, but we still put on a good show.
2 a.m. We collapse into our hotel room beds.
Friday, March 16
12:30 p.m. We meet in the hotel lobby and walk to Pardo's Chicken restaurant for lunch. There, we are introduced to Chicha Morada for the first time — a kind of juice made from purple corn, served over ice and with a squeeze of lime. Though I couldn't eat the chicken, I enjoyed the killer french fries.
3 p.m. We take the bus to Huaca Pucllana, an archeological site in Miraflores consisting of thousands of mud bricks forming pyramids dating back to the fifth century. The tour guide shows us sites of human sacrifice and a vegetable plot growing indigenous plants. Though guests aren't allowed to touch the ancient bricks, two Peruvian Hairless dogs (Peru's only native dogs) were running up and down the sides of the pyramids without care.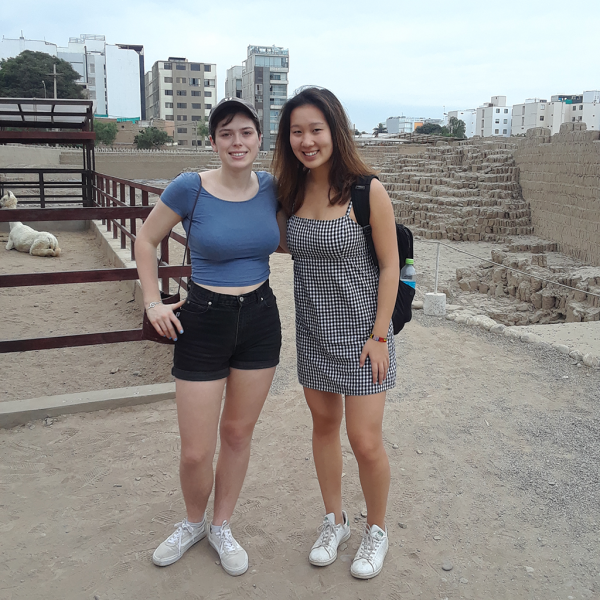 8 p.m. We head to the site of our next concert, Cocodrilo Verde, and listen to Ruben Romero's Interescolar Big Band, which consists of all-star high school-age students, play a set. After rummaging around for our instruments and music in a tiny upstairs storage room, we go down and play. It goes much better than last night, though the entire trombone section is seated on plastic stools so tiny it felt like I was in a kindergarten classroom.
10:30 p.m. We are taken to a small venue for creole music, where we cram into several narrow tables and watch locals dance salsa. Every few songs, two professional dancers would take the stage in traditional costume, as if to remind everyone else how much better at dancing they were than them. It was amazing. All the non-vegetarians were served "lomo saltado," which they assumed was beef but later learned was llama. The verdict? It tasted good.
Saturday, March 17
10 a.m. Despite not getting home until 2 a.m. the night before, my roommates Kathryn and Jodi-Ann and I drag ourselves out of bed for a tour of historic Lima. This tour was undoubtedly my favorite part of the trip. Our first stop was a church whose interior was almost entirely gold leaf. After touring several colonial homes dating back to the 17th century, we went to the Plaza Mayor, a large square, where we watched the changing of the guard at the Government Palace. We stopped for a photo op, then were guided to Choco Museo, the local chocolate museum. There, we were handed many samples: cocoa beans, nibs, and even liqueur of several flavors (my favorite was the passionfruit). As soon as we'd finished stocking up on chocolate, our guide, Lili, asked us to pick where we wanted to go next: a cathedral or the catacombs underneath the Church of San Francisco. We picked the catacombs.
1 p.m. We weren't allowed to take pictures in the catacombs, but taking any photos would have felt invasive anyway. I was initially scared to go down there, but I'm glad I did (though the large bag of chocolate I carried with me was cumbersome). There were skulls and femurs stacked in corners or in vaults several meters deep, arranged by archaeologists. It was a sobering experience, and an educational one. It was a relief to get back into the daylight, and I think we all reemerged feeling a little more reflective than we had going down.
4 p.m. We go to Museo Larco, where we learn more about the ancient indigenous cultures of Peru and see some amazing headpieces and ornamentation of gold and silver. Outside, there are flowers sprawling down every wall, which made for a killer photo backdrop.
11:30 p.m. We head to the Jazz Zone to hear Gabriel Alegria and his Afro-Peruvian sextet perform. Jodi-Ann and Professor Buehrer both subbed in for a few of the songs, which was awesome — the crowd loved it!
Sunday, March 18
10 a.m. Sunday is our free day to explore the city, so Kathryn and I take advantage of the time to walk down to the ocean. The beach is entirely pebbles — no sand — and there are already surfers out on the water. We dip our feet in, then walk back to the hotel, stopping to check if the Dunkin' Donuts on an adjacent street had any uniquely Peruvian flavors (just apple).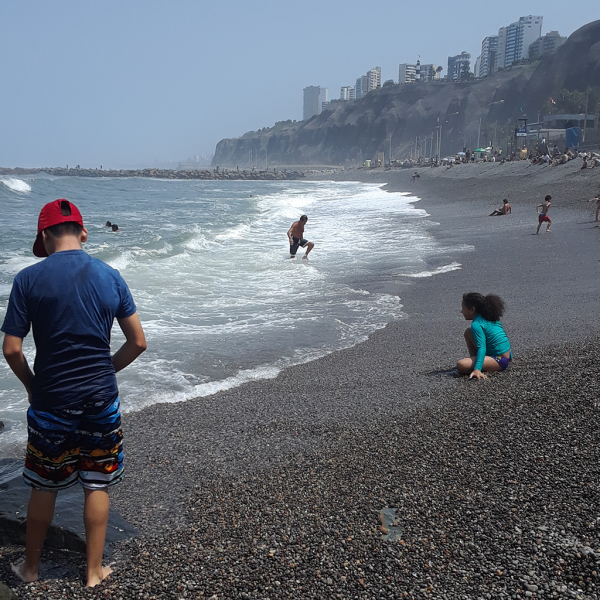 12:30 p.m. We have a potluck dinner with the students from the Interescolar Big Band. I get my butt kicked in foosball and eat too much dessert, as usual.
2 p.m. Jodi-Ann, Kathryn and I walk back down to the beach to watch the surfers and soak up the sun.
6 p.m. After an hour resting at the hotel, the three of us take a cab to a "Chifa," a Chinese restaurant in Lima. We all order far too much food, taking it to go with us as we head back to the hotel, where we try (unsuccessfully) to foist our leftovers on our bandmates.
10 p.m. We get to the Lima airport. I wait in line at the duty-free store for 15 minutes to buy a pack of Mentos, only to be told that I need my passport for purchase. I am peeved, but decide that, in the end, Mentos are not an essential travel item.
Monday, March 19
Midnight We board our flight to Miami in the biggest plane I've ever been on — seven seats across. I watch about half of "Murder on the Orient Express" before trying to sleep.
2 a.m. The turbulence causes me to ball my hands into fists and sweat. At the same time, I'm attempting to uphold a facade of someone who is very cool and definitely not scared of turbulence.
6 a.m. We land in Miami and wait in long lines for a very long time. I buy a sub-par breakfast sandwich and check my email.
10 a.m. Once again, I fail in my efforts to be cool in the face of turbulence when I drop my copy of "A Winter's Tale" in sheer terror mid-flight.
2:30 p.m. We made it! We're back on campus. I want nothing more than to shower and fall into a deep sleep for several days, but because I am a liberal arts student with time-management issues, I head to a rehearsal.
For more details on the experience of playing alongside Gabriel Alegria's band, read this post by fellow trombonist Jodi-Ann Wang '20.