Swingin' Opportunities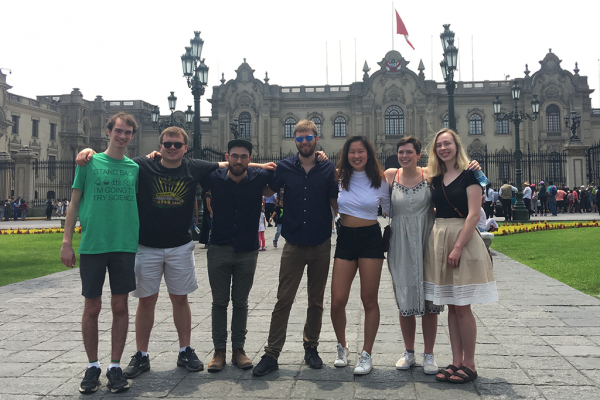 During spring break 2018, the Kenyon Jazz Ensemble's biennial tour brought me to a city that exhibits artistry and vitality in every aspect of life: Lima, Peru.
In addition to the sight-seeing, food-tasting and music-making that made up our fantastic tour, I had the unique experience of playing on stage with Gabriel Alegria '93 and his Afro-Peruvian Sextet. Besides leading his own group for their biennial Midwest tour and stopping at Kenyon, Gabriel also works to bring student groups to Peru to experience the country's unique musical culture.
During the ensemble's last visit to Kenyon in October 2016, I had my first experience playing with Gabriel's band. I was a freshman at the time, and even though it was just one song, it was both extremely nerve-wrecking and exciting. I remember Gabriel introducing the piece of music that I was going to play and lightheartedly saying "When we recorded this song with Watrous…"
"Hold on," I thought. "Watrous? Bill Watrous?!" Hearing the name of one of the modern day jazz trombone legends, someone who I have been listening to since the beginning of my musical journey, was surreal, especially when Gabriel said it with such ease. It was my first ever performance at Kenyon, and it truly set the tone (haha) for my Kenyon musical experience still to come.
In Peru, after a four-hour rehearsal with Gabriel's group at a local high school the day before, I was so honored to share the stage with the band again. I don't think I can adequately describe the mixture of emotions I felt during the 25 minutes I was onstage. The beauty of jazz lies in the musical connection that is established between musicians and the audience, and the energy that filled the Jazz Zone in Lima that night was an embodiment of its beauty — so elegant and so real.
As a sophomore who was lucky enough to come to Kenyon because of music, and as a Kenyon student in general, I feel so fortunate having the support of not only professors, administrators and fellow students, but also a network of alumni who contribute greatly to the Kenyon experience. Whether trying to find a summer internship, making post-graduation plans or seeking navigational advice for the next step in my studies, Kenyon alumni seem to be the strongest support group in pointing us toward the right direction.
Our Peru trip would not have happened without Gabriel, and my own experience playing with him was a dream come true. Collaborating with accomplished Kenyon alumni who share your interests is like having a set of eyes that helps you see into your future.
Instead of simply playing concerts and visiting the standard sites, we were invited to enjoy the musical scene at bars behind the wall of tourists, cook with chefs at a local restaurant and attend the Afro-Peruvian Yunza Party, an annual tree-cutting event for the Afro-Peruvian community carried from olden times through to the present. Without the connection of an alumnus, we would not have had this unique cultural experience.
My experience playing with Gabriel Alegria and his Afro-Peruvian sextet has not only enriched my musical career, but has also been an insight into the vast alumni network that is readily available for Kenyon students. To be immersed in such a multifaceted culture, even if for only four days, to take learning outside of the classroom and into the real musical world with full-time musicians, is so real, so amazing, so Kenyon.
Curious about more details of our tour? Check out this travelogue by my friend and fellow trombonist Carolyn Ten Eyck '18.