Senior (Dis)Orientation: the Class of 2013 Graduates
Senior week strongly reminded me of freshman orientation in both structure and atmosphere. Both then and now, the class of 2013 got one week and an eerily depopulated campus just to ourselves to recalibrate for the next big step, facing our terrifyingly new lives. There was scheduled fun time, and the Kenyon musical tradition of Freshman and then Senior Sing, and this peculiar collective knowledge that while anything could happen, you had to be the impetus for it. Make those friends, do those Kenyon quintessentials. But during freshman orientation, that feeling was bubbly and giddy, and for me, at least, during senior week (DIS-orientation), the feeling was more a driving sense of urgency. Eventually, I just had to let go, because the real Kenyon experience is, of course, made up of innumerable days of classes and weekends. No matter what I get up to during senior week, those other memories mean more than last minute sprints of sentimentality.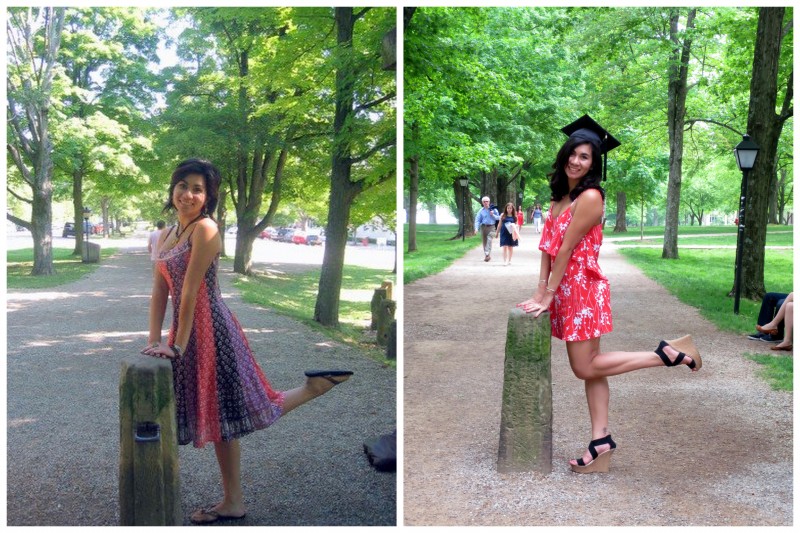 2007 to 2013.. The transformation of a Kenyon Young Writer into a Kenyon Alum.
That isn't to say I didn't have a few special things I wanted to do before leaving campus. With the ink still drying on my diploma and with a shiny black "2013" tassel swinging between my fingers, I had to slip away from all the graduation hubbub and be with just myself. That's the weird thing about graduation day, I realized. I thought it would be about me, but it's actually all about the people who come to see you-- your family, your professors, your friends in the audience. When I finally got a minute alone in the late afternoon, I saw that I had been too busy to let "it" hit me, but inevitably, it did, as it does to us all, on Middle Path.
So in my last moments of Kenyon, I did exactly what I had done in my first moments of Kenyon-- I got some icecream from the bookstore and walked Middle Path. It calmed me down. Ohio, or maybe this particular corner of it, has the most beautiful golden hours that I've never seen anywhere else. Summer evenings are hazy and radiant year after year, with staggering accuracy and gorgeous precision. Walking down Middle Path in the evening of graduation day looked exactly the same as Middle Path did on my first visit, and I love that. As a Commencement speaker said, we all chose to come here knowing that something about us was going to change irrevocably- we just didn't know what. I wanted that, but I also want Kenyon to stay like this forever. Luckily, I'm pretty sure I can have both.