Swaying with The Stairwells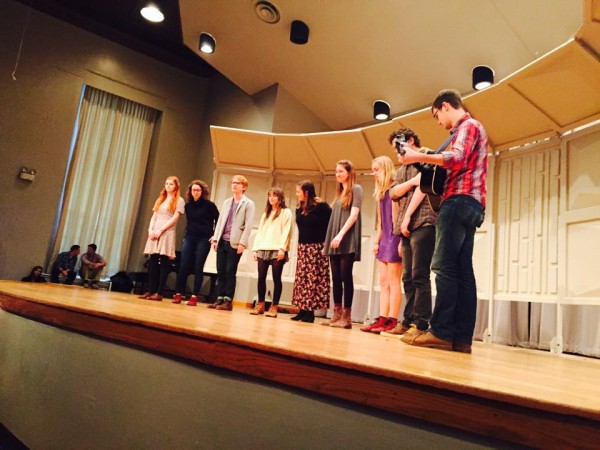 After Noah's post about singing with the Kokosingers, I realized I've neglected to write about my own a cappella group on this blog. It's not so much The Beatles. Maybe if they wore a lot of flannel and kept forgetting their lyrics. In terms of groups on campus, The Stairwells are pretty one of a kind.
We're Kenyon College's only a-coustapella group. We arrange our own songs kind of like regular a cappella groups, but instead make the voices work with the instruments. Sometimes there's animal noises. There's ALWAYS dancing.
I knew I wanted to be a part of The Stairwells when I saw them perform at the Cabaret during orientation. I just wanted to harmonize and sing Mumford and Sons with a group of humans who looked like they were having a great time.
I tried out, got in, and was effectively silent for the first year of practice. I was so nervous I would say something stupid or mess up the songs. Turns out most of Stairwells practice is saying stupid things and messing up the songs. There's a lot of hungover mornings and accidentally screaming the wrong note, but by the end of each semester, we've created a setlist of magical harmonies and softly sung "oohs" that I listen to over and over again during the summers when I am not on campus.
This crazy group of rascals has made up so many of my greatest memories at Kenyon, and I don't know what I'm going to do on weekends when I don't have Stairwells practice to dance it out and sing songs with the happiest group on earth.