Weaver Wednesday: Behind the Scenes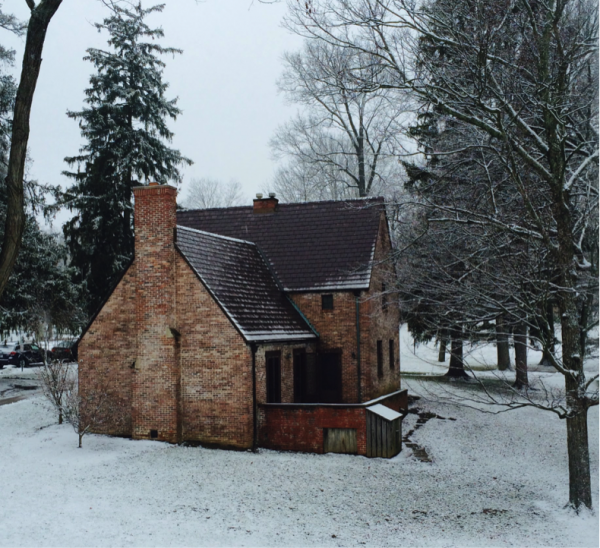 Toward the beginning of my first year, the Student Activities Office (SAO) created a new weekly social event that gave students a designated place for a fun study break during the week. The SAO decided that every Wednesday from 9 to 11 p.m. they would sponsor a themed event in Weaver Cottage, and so "Weaver Wednesday" was born.
This recurring evening activity has become quite popular, drawing approximately 100 students each night. Even student organizations have joined in, working with the SAO to host activities that simultaneously entertain students and allow these Kenyon clubs to contribute to the campus social scene. Last Wednesday, Jan. 27, I had the opportunity to plan and carry out a Weaver Wednesday for the Not For Sale Campaign. As president of the human trafficking awareness group, I was responsible for completing most of the event preparation. While I'd attended the weekly event many times before, planning Weaver Wednesday gave me a completely new perspective. A great deal of time and effort is required to ensure that everything runs smoothly. I found this out firsthand as I went through a step-by-step planning process behind the scenes.
Step One: Decide on a theme.
Before we could even talk to the SAO, we needed to have a clear idea of what our Weaver Wednesday would entail. As a group that strives to spread awareness about human trafficking, we didn't have any obvious themes in mind that would make for a fun evening activity. However, after brainstorming various options, we eventually came up with a theme that would entertain students while still informing them about the goals of our group: an international food tasting/cultural event. We decided to reach out to cultural student organizations and ask them to join us. We asked them to choose a nation that represented their organization and then prepare some type of food or cultural activity for the evening. Not For Sale would then research human trafficking statistics for that country and include them on a flier placed next to the food. We felt this was an unobtrusive way to spread awareness that also encouraged people to attend.
Step Two: Schedule the event.
By the time we established our theme, all the Weaver Wednesdays for the fall semester had been filled by other student groups. When I went to speak to Sam Filkins, the assistant director of student activities for leadership, he said we could plan for spring semester instead. This worked out perfectly since January was Human Trafficking Awareness Month.
Step Three: Coordinate with other members and student organizations.
I emailed all the cultural groups on campus to see if they would like to participate in the event. Within a week, Adelante, Asia Society and Circolo Italiano all expressed interest, giving us enough clubs to continue with our theme.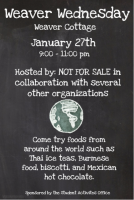 Step Four: Buy ingredients and other materials.
Once the groups decided what food they wanted to make and/or activity they would bring, I checked out a Wal-Mart gift card from the SAO to purchase all the ingredients. The SAO provides organizations up to $200 to fund the event, which was plenty of money for us to buy the ingredients for each dish along with some plates and cups. Adelante had chosen to represent Mexico by making a Mexican hot chocolate, Asia Society wanted to make several Burmese dishes for Myanmar/Burma, and Circolo Italiano decided to make double chocolate biscotti and bring a card game called Machiavelli for Italy. To include one more country in the event for added variety, Not For Sale offered to make a Thai iced tea to represent Thailand.
Step Five: Prepare prior to the event.
The day before, I prepared for Weaver Wednesday by brewing four gallons of black tea — quite the endeavor since I had never made tea prior to this. To make set-up for the evening easier, I borrowed a teapot and tea kettle from my Community Advisor and a friend and alternated between brewing tea and doing homework. Additionally, earlier in the week, some other Not For Sale members and I looked up information regarding the human trafficking statistics for Mexico, Myanmar/Burma, Italy and Thailand and created fliers to place next to the different dishes.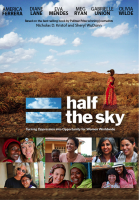 Step Six: Set up early.
After picking up a projector and screen from the library (used for showing the film Half The Sky), I headed to Weaver Cottage with a friend to meet other members from Not For Sale and the rest of the clubs around 8:30 p.m. This was probably the busiest part of the event, as we had to finish making the drinks and rearrange the furniture in Weaver to best suit our plans.
Step Seven: Enjoy the event.
Luckily, we were able to finish everything just in time, and people began filing into Weaver promptly at 9 p.m. It was great to see everyone enjoying the food and drinks. As I socialized with other students, I kept an eye on the remaining cups of tea, ready to disappear back into the kitchen to pour more cups if the supply ever dipped too low.
Step Eight: Clean up.
Around 10:15 p.m., another member of Not For Sale arrived to replace me. She stayed to help wash dishes and assist with the cleanup of the event, since I needed to leave a bit early that evening.
Overall, our Weaver Wednesday was a success! Over the course of two hours, 107 students stopped by, giving our human trafficking statistics great exposure. I was very pleased with how it all turned out; however, with what I know now, I would definitely advise other groups to start planning as early as possible and to make sure they have plenty of people available to help. Without the assistance of my friends and other club members, I am certain the event planning and preparation would have been much more difficult!
Related: