What Does Canada Have To Do With Kenyon? Or, My Atypical Spring Break
We crossed into Canada a little before midnight under torrential rains and the stony gaze of the Customs official. Our car was carrying three Kenyon students, a Scrabble board, and a collection of alcohol, which we had to quickly convert to rough metric measurements. We were headed for Toronto, in the exact opposite direction of where more reasonable college seniors on their last spring break should be driving, but I had someone special to visit up north.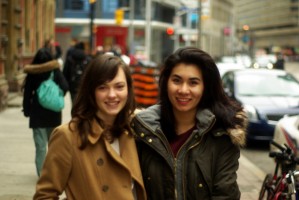 Adi is a former roommate and one of my best friends in the whole world. We both went on gap years before Kenyon and therefore had a lot to bond over as the oldest freshmen in the class of 2013. Transitioning from a year spent as mostly self-sufficient adults abroad, freshman year was a bit of a step-down; I guess we found it difficult to relate to everyone else for a while. Someone in Kenyon Housing had the brilliant idea to pair us up, so while we were going through American culture shock, at least we had each other. By the end of the year, we were pretty much the same person-- not just in the ways that we finished each others' sentences and wore each other's clothes from our amalgamated closets, but also in the shared experience of traveling abroad, living in McBride Hall, taking the same classes, and making the same friends. Yet after freshmen year, she transferred, and I stayed.
She chose to go the University of Toronto to pursue a more urban college experience (Amish country isn't for everyone) and has written herself a completely different story than the one I'm living at Kenyon. And as I walked through the U of T campus, it was clear that she was a better fit for it than I. Literally every building and every poster of notable alumni was an ode to the Research Industrial Complex; Adi's description of the school's academic culture was one of anonymity and competition, contrary to the support and collaboration that I count on at Kenyon. Adi appreciated the fight for internships and professors' time and attention. What makes her tick would have quickly burned me out; I missed her, but I'm glad I stayed here.
We attacked Toronto by choosing one big destination for the day and then wandering in that general direction, allowing for detours such as interesting storefronts, not-to-be-ignored street signs, and, of course, the inevitable getting lost. Although it's got skyscrapers and a never-ending grid, sometimes Toronto feels a lot like Kenyon; strangers on the street are almost aggressively friendly and helpful to visitors who look the least bit lost, and no matter which direction we're headed, there's always snow blowing in our faces.
We came away from Toronto with three big takeaways: poutine (fries with gravy and cheese, HELLOOO) needs to be a bigger thing in America, Toronto in March looks and feels a lot like Ohio in January, and it's not the end of the world if two friends start in the same place but head in opposite directions.