Wind Chill: Negative Forever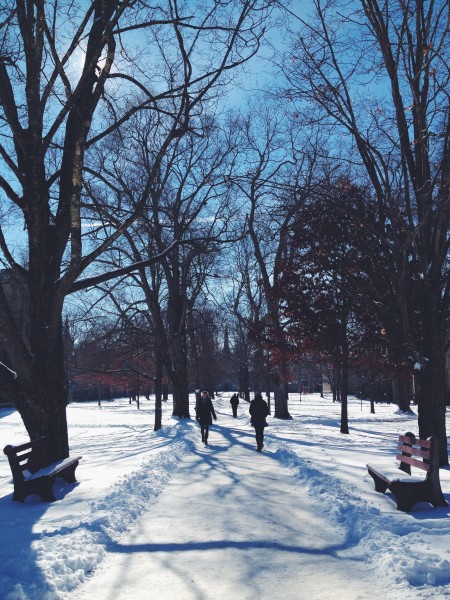 Every year, on that first day of snow, I get so so so excited. There is nothing better to lift your spirits than to watch snowflakes fall outside your window. But then, you have to step outside. And you have to do it every day and it seems like the snow isn't stopping it's just there forever and I forget what trees look like, let alone the sun.
But there is a way to survive without letting the white void of snow consume you. You just have to embrace a few key things that will ensure a warm-as-possible ride into spring:
1) Embrace your inner mole. This is important and, with some training, it's easy. To mole up means to make a burrow in your bed and watch Netflix with a cup of hot chocolate. You can try putting yourself through the treks back and forth across the ice-cold campus to make it to parties where you lose your coat, but eventually it's time to accept that some nights are not for partying — especially when it's winter. I've learned to enjoy my winter hibernation as a homebody, and the times I do decide to go out on the weekend are filled with the energy I've stored up watching Friends. Win-win.
2) Embrace your biggest sweaters. Kenyon can be a pretty fashion-forward campus, and it's easy to get caught up in the pressure to NOT wear sweatpants, Birks and socks to the market (which I just did — what can I say? I'm evolved), but when wind chill hits negative twenty, it becomes less important that my snow boots make my feet look big. So I throw on my biggest sweater and bundle up. When it's this cold, everyone looks like blobs anyway.
3) Embrace the help of others, whether it's the shuttle that's been running on campus so we don't have to walk too far in the cold, or friends who bring you coffee or forgo a night out to spend time with you in your room. Winter can be depressing, and I know it really brings me down. I try to focus on the positives, because once the snow fades away, I'll be that much closer to saying goodbye to Kenyon.